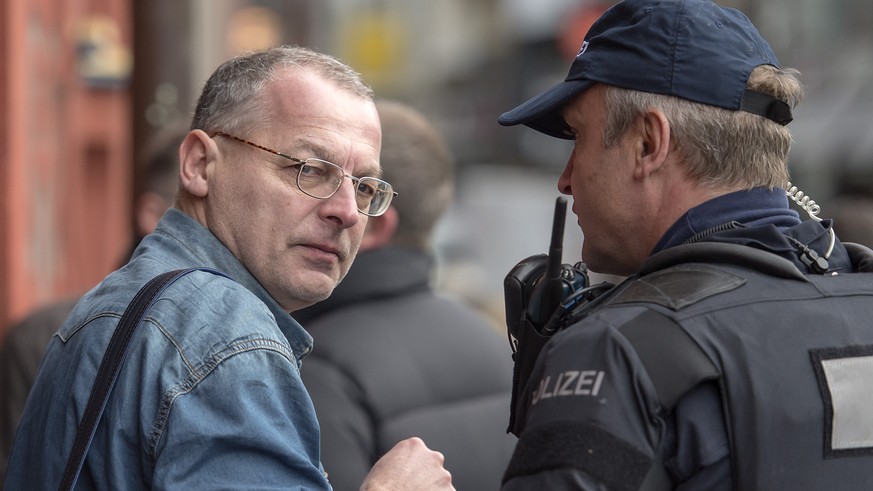 The Basel politician Eric Weber was called a Nazi, now a verdict has fallen. Image: KEYSTONE
Judgment against Eric Weber: judge determines who can be called the Nazi
A court ruling reveals what to consider before someone is called a Nazi.
"Hello Eric, you old Nazi!" The verdict fell on a Saturday afternoon three years ago and continues to employ the judiciary to this day. The then Basler councilor Eric Weber stood on the street in Kleinbasel and handed out flyers. He is referred to by the media as a political clown and troublemaker. From the point of view of left-wing activist Jürgen Saalfrank, these titles represent a dangerous trivialization. When he met Weber's election campaign by accident on Saturday afternoon, he expressed the memorable phrase.
Weber had adapted to problems. That is why he was accompanied by a colleague who played his bodyguard. This was also addressed by the left-wing activist, with the following words: "Are you like & # 39; n Nazi like this?"
Weber called the police. The prosecution condemned the left activists on a criminal order for insulting in two cases. He had injured both Weber and his bodyguard in an inappropriate way. However, for the first time, the Basel criminal court, Weber suffered the first defeat.
Saalfrank was acquitted of the accusation of insulting Weber. For the second instance, the Court of Appeal, Weber suffered the second defeat. Saalfrank was also acquitted of the accusation of insult to the bodyguard, as the judgment now shows.
A Nazi wants to go to Bern
The lawsuit shows: if you appoint someone as a Nazi, you are committing a loss of honor. But this is only punishable if it does not match the facts. The problem is, however, that the burden of proof lies with the perpetrator. So who wants to call someone a Nazi, must first consider whether he can prove the accusation in court.
Saalfrank managed to prove this with a file of more than 200 pages on Weber. It shows an ideology-driven proximity to ancient and neo-Nazis. The court therefore confirms that it is reasonable to call Eric Weber a Nazi. Consequently, it would be legitimate to ask the companion if he was also one.
This realization costs the state more than 10,000 francs. The money received by the lawyers from both sides of the court cash. Because Weber is unemployed, the court pays his lawyer.
Eric Weber was voted down in 2016. He is currently running for the National and Council of States. According to the highest court in Basel, this is permitted: in Basel, a Nazi applies for a seat in the federal palace. (Bzbasel.ch)
Electoral fraud in Switzerland
So everything will work in the Smart City of Basel
Video: SRF
You may also be interested in this:
Subscribe to our newsletter
Source link