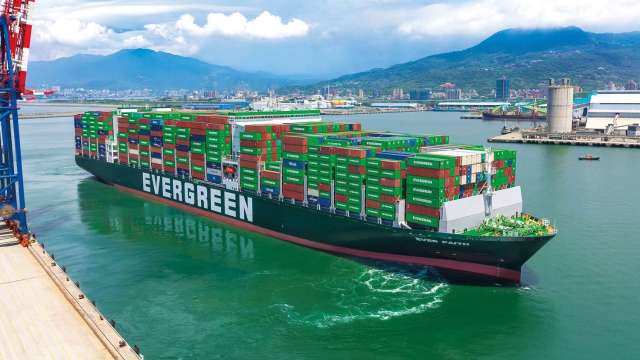 Container ship Evergreen (2603-TW) today announced its third quarter financial reporting (12.) One-quarter net profit after tax was 8.185 billion yuan, an annual increase of 5937%, and net profit per share was 1.7 yuan . The new quarterly high is the sum of the profits of the past three years. Net profit after tax for the first three quarters was 10.936 billion yuan, an annual increase of 3113%, and net profit per share reached 2.27 yuan. This year will be the best in 10 years.
Benefited from the strong appeal of European and American manufacturers since August and the market shortage of cabinets is serious, especially the rising shipping costs of the US line. Evergreen's consolidated sales in the third quarter were 55.04 billion yuan, an annual increase of 10.4%, and gross profit was 13.46 billion yuan. An increase of 245.79%, a gross profit margin of 24.46%, an annual increase of 16.65 percentage points, an operating profit of 11.091 billion yuan, an annual increase of 714%, an operating profit ratio of 20.15%, an annual increase of 17.42%.
After the start of the traditional relatively low season in the fourth quarter, due to lack of space and containers, the current US Eastern Route freight rate is still over US $ 4,600 per FEU, and the US Western Line is also that high if more than US $ 3,800 per FEU. Evergreen leaves from tomorrow. The latest 12,000 TEU class F-type vessel has been put on the Asia-US East Coast (AUE) route. It is expected that a new ship will be delivered before the end of the year. In the hot shipping market, the operation is quite optimistic.
Evergreen stressed that the early deployment of fleet planning is different from that of many shipping lines rushing to hire second-hand vessels in the spot market, and five newly built 12,000 TEU class F-type container ships have been put into service since the beginning of this year, effectively catch up with this sharp rise in freight rates. .
The legal entity is more optimistic. Due to sustained demand after China's long vacation, coupled with the lack of cabinets and other issues, the Americas line freight rate remains high, and the ocean line freight rate reflects there is usually a delayed effect on revenues. It is optimistic that Evergreen will take fourth place. Fourth quarter sales and earnings will be better than the third quarter, and fourth quarter net profit after tax is expected to exceed 9 billion yuan.
Source link