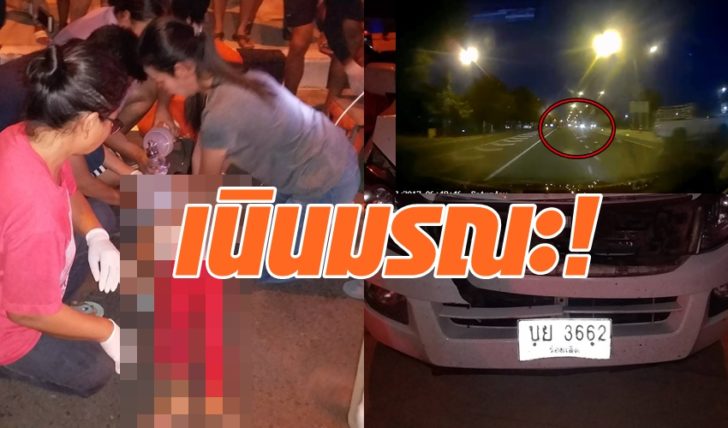 At 18.20, on October 15, police lieutenant colonel Wanwisri Kaenchan, deputy director (investigation), Muang Yasothon. Receive notifications about the accident with the pick-up truck. The road to the right. Taw Thong Subdistrict, Tad Thong District, Muang District, Yasothon Province, with the Yasothon Medical and Yasothon Rescue Officer. 31 Yasothon, the stage in the outskirts of Yasothon. Vajama, 61 years old, and Dr. Supachai Vajakama, 5 years old, two grandchildren, died in the hospital. The Isuzu D-MAX pick-up is located in front of the left bank. Left in front Then the name of the director is Mr. Apichai Phakdee, 47 years old, living in 33 Moo 6 Ban Wai Lum, Tambon Mug, Thung Khao Luang, Roi Et.
Ask Mr. Apichai Let's say they drive from the house in Roi Et to get fresh chili at the Chareon market in Ubon Ratchathani. Selling at home. The driver drove at normal speed at the scene of the accident. I saw her grandmother hand in hand to cross the road to the island. Then he could get on the brakes, but he could not stop the car, so he hit him quickly.
Witness section I know that my two grandchildren will walk across the street to regularly eat rice. After the Grandmother's grandmother market was completed, she walked across the street to go home. The grandmother took her hand over the road until she reached the island. I have a pick-up truck that crashed so badly in both that they died.
Lieutenant Colonel Wisit said that the preliminary allegations of fatalities for truck drivers cause the car to cause death.
The reporter reported that the road ahead of the market, Tat Thong often accidents. And many people have died because the area is hilly and with a high speed to drive.
Source link