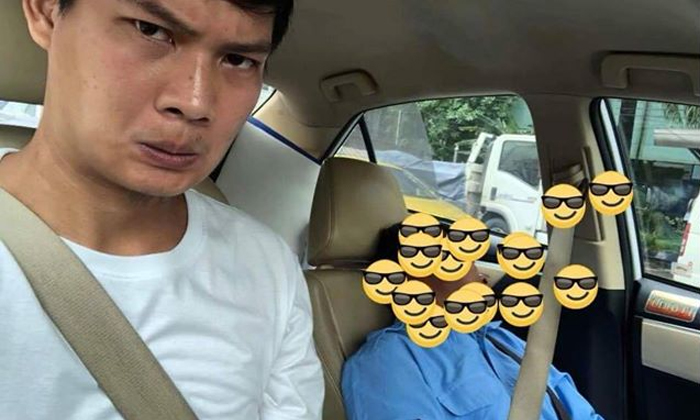 Santiphap Khunchanmee posted a photo of the user of Facebook while driving, and a taxi driver slept on the driver's seat. And the message that way. A taxi driver is drooling then I have to drive instead.
(August 23, 61) Santi Khun Chanmanee, a taxi driver, revealed that the incident took place yesterday (August 22, 61) at about noon. Go to Queen Sirikit National Convention Center. The distance is 18 km. I do not see the taxi driver showing strange behavior. Or drowsiness in any way. Only taxi drivers always find sweets. I think that would be a dream.
I drive to Rama 9, where the car is very attached. Red car The taxi driver turned around to tell him. Take a nap. If the green light to wake up. I see that is not appropriate. And it can be dangerous. I have presented that drive myself. Taxi driver And parked at the gas station to change seats. They have driven from the Rama 9 petrol station to the Queen Sirikit National Convention Center. The distance is not very far. During their trip, they took photos of a cello taxi driver who slept on Facebook for fun in a post. At the destination They pay the normal taxi. All costs are Baht 301, but the taxi driver only pays 300 Baht for 1 Baht.
Mr. Peace Chan or take a taxi.
Mr. Peace said he was not alarmed by the incident. I speak well with taxi drivers. And also more taxi sympathy. Because he can come early in the morning. After lunch, after lunch. The car has been confirmed. It can be sleepy.
Mr. Peace said after the story was published. There are organizations. Many of the states involved. Request information about the taxi from them. To get rid of the taxi driver. The license plate of the taxi is not recognized. I do not care about taxi drivers. I have not learned it by heart. The taxi did not cause any damage or threat to them. From the incident. I also see that it is good. The taxi drivers told them they were sleepy and let them drive. If you leave the drive as sleepy, this can be an accident. This will damage both of them. And friends with the road too.
Sukri Charupoom, director of the Land Transport department, revealed that the taxi driver in this case was guilty of making passengers unsafe. The penalty interest is no more than 5,000 baht according to the ministerial regulations. Passenger may not have a valid driver's license. The fine is no more than 1,000 baht, but this case is considered necessary. To prevent damage to yourself. It will be impunity.
Source link