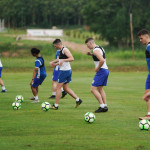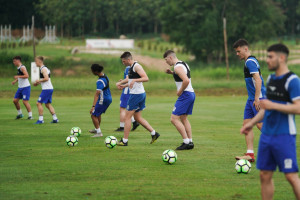 Carlyle United football team players from League Two, England Arrived in Thailand To prepare for the game against the 3 clubs and the 19-year-old team of the Thai national team Every game is full of hope for clear results.
The movement over 5 football matches, the show "Carly United Football Tour Thailand 2019" during 14-20 May 2019, organized by Traill International School, which has 5 teams to compete, consists of the Carlyle United Club, League Two from England, You 19-year-old Thai national team, club of Kasetsart FC of Thai League 2, Assumption College Sriracha and Traill International School Team The Carlyle United football team has recently arrived in Thailand. To prepare for the competition with the other 4 teams in Thailand as follows
On May 14, 2019, Carlyle United met with the FC Agricultural Club (Thai League 2) at 4:00 PM on the soccer field. Within the golf club development field Chonburi Province
On May 16, 2019, Carlyle United met with the 19-year-old Thai national team (set to participate in the ASEAN Football Model Championship not older than 18 between August 5-18, 2019 in Vietnam) at 4 p.m. On the football field Within the golf club development field Chonburi Province
On May 19, 2019, Carlyle United met with the Traill International School team at 3 p.m. Chonburi province
On May 20, 2019, Carlyle United meets the Assumption Sriracha team at 4.30 pm at Sirindhorn Stadium. Within the Assumption College Sriracha
By traveling to Thailand, this is the first time that the team from England said club manager Carlyle United, although the competition is just a tournament in the final phase. The season of the English league But by being a professional player We didn't relax. But hope for clear results Granted that the weather is pretty hot in Thailand Is an obstacle to competition But still confirm that every game is needed to make the most impressive fans
While "Coach Yong", Worawut Sripakha, former Thai national football coach, the coach of the Kasetsart University FC team is clearly announced, although the results in the Thai League 2 may not be as striking as they should be, while the remaining 7 competitions in the first leg must be at least 10 points. Standing at the table without pressure And an appointment with Carline United on May 14 can be a measure of the potential of every player in the team. Is it good enough to achieve excellent results in Thai League 2 in the remaining games?
Source link