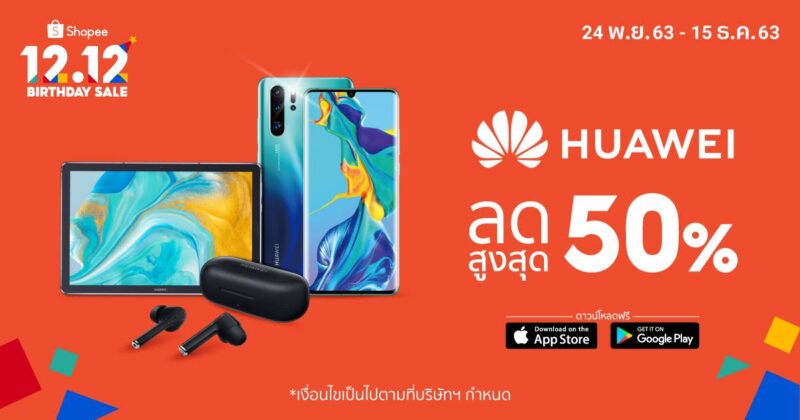 Huawei (HUAWEI) The world's leading smartphone brands Together with Shopping (Shopee) Leading e-commerce platform in Southeast Asia and Taiwan Join us to create colors and fill the mood of a party Encourage Thai Moods to enjoy shopping with great deals to end the year with great opportunities to own a world class smart device with innovative designs and advanced functions. With a top-of-the-line discount of more than 50% and a discount code of 100 baht, a special promotion Shopee 12.12 Birthday Sale To celebrate Shopee's birth month from today – December 15th, 2020 only!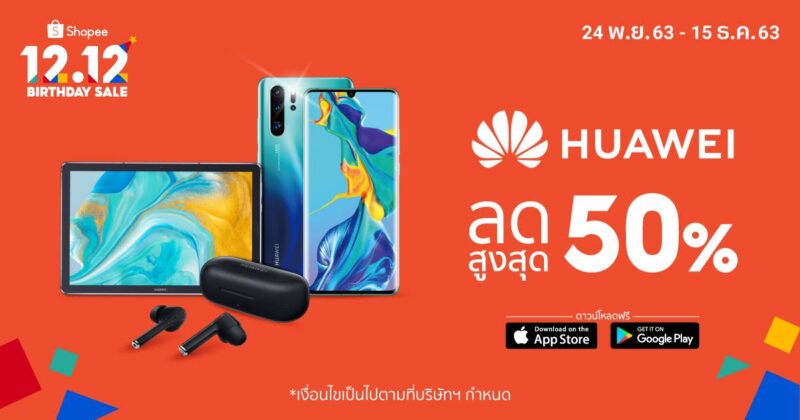 Meet Huawei's army of top-quality smart devices in the Shopee 12.12 Birthday Sale campaign, which brings you the best of tech shoppers to choose from, including the latest smartphones and tablets. And many special headphones that buyers can buy as gifts for themselves and the people around them. At a special price
The smartphone innovation of the future world with industry-leading processing performance and year-end promotion at Shopee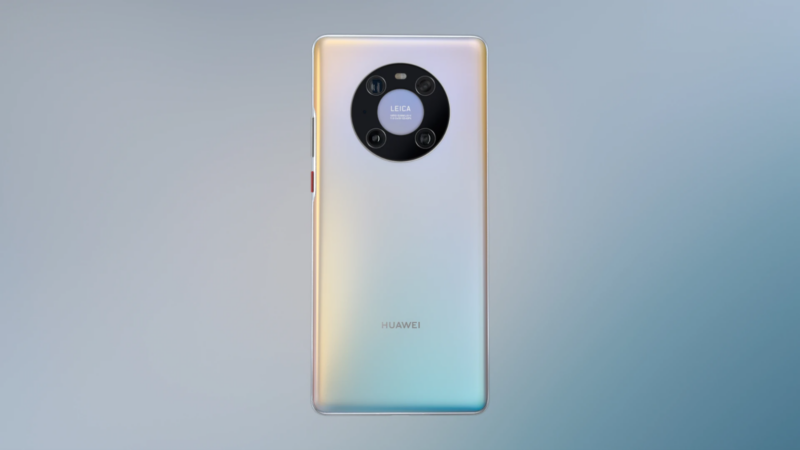 Start the most special with the launch of the latest flagship smartphone. HUAWEI Mate 40 Pro The smart phone of the future that is advanced with performance. Unique design of the space ring rear camera The back is graduated, looks premium, luxurious, curved screen, 88 degrees, Horizon Display gives a borderless image.
Driven by The world's first Kirin 9000 CPU, speed 3.13GHz, produced with 5nm technology, faster, stronger, smarter and more energy efficient, supports 5G in all networks, comes with a rear camera with 50 million supercharged main lens , RYYB sensor. Large size, bright, clear, realistic images Leica Cini Ultra Vision 20 million lens, wide angle photography And observe close-up shots Automatic mode change 12 million telephoto lens, 5x optical zoom, most on the market, 10x hybrid and up to 50x zoom at the same time, OIS- shake, and also added AI Golden Snap 2.0, a subtraction feature. Shadows when taking the pages of your favorite book The 13 MP Ultra Vision front camera can record
Ultra-wide selfie, slim and Slow Mo selfie, slow motion video recording Front camera itself And comes with 66 watts supercharge technology, 30 minutes charging can get 85% battery
Prepare to experience innovation from the world of the future with the HUAWEI Mate 40 Pro inprice 34,990 baht From December 3, 2020 in the official HUAWEI Store on Shopee
To continue with HUAWEI nova 5T Smartphones for Teens Quality packed with innovative 5 cameras with a 48 MP main camera and smart system. Helps to take clear pictures in all situations, powered by a powerful chipset, Kirin 980 comes with a capacity (8/128), the HUAWEI Punch Display 6.26 "FHD + screen, full bezel for superior user experience. comes with a nice design and is easy to grip.Show off your beautiful figure with a nova star pattern and clean colors.
And supports Huawei Super Charge charging system 22.5W helps in charging faster Ready to become owned For an exciting price of only 7,490 baht only on Shopee
The ultimate entertainment assistant in your hand with your tablet from 'Huawei'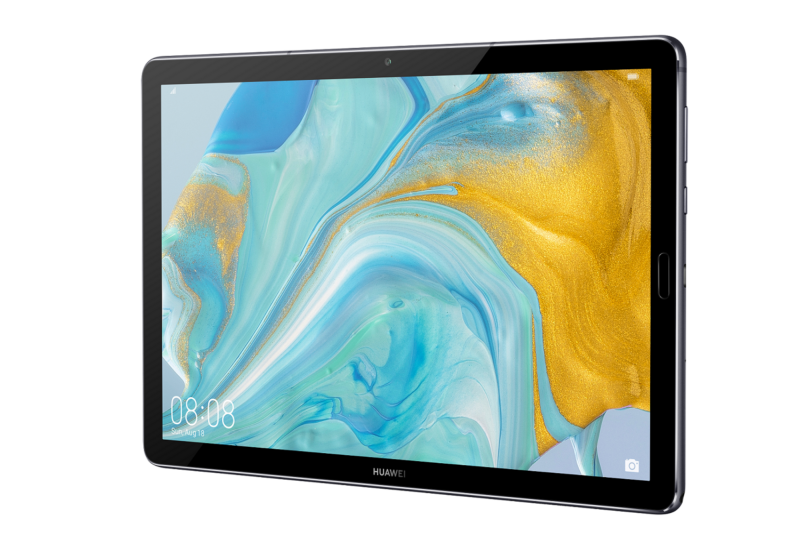 Prepare for pocket-sized entertainment with HUAWEI MediaPad M6 To enhance your viewing experience Or play games in your spare time is possible with a premium Equipped with a 2K high resolution IPS display powered by Kirin 980 and GPU Turbo and a 4 speaker audio system tuned by Harman Kardon to provide a create a more dynamic sound system. Comes with a super strong 7500 mAh battery that gives you more than 11 hours of continuous use throughout the day.
Ready to experience unbeatable entertainment at a very special price on Shopee Nothing but 8,490 Baht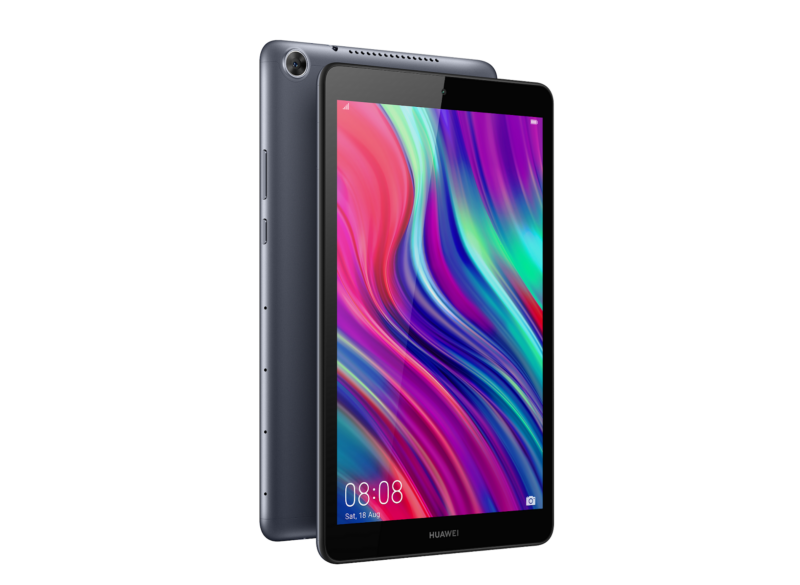 Continue with another choice with HUAWEI MediaPad M5 lite 8″ A small but mighty tablet It fits in your hand with an 8-inch IPS screen with a resolution of 283 PPI and a low weight of only 310 grams, ready to respond to all applications with the Kirin 710 chipset, 3 GB RAM , 32 GB capacity so you can flow with Navigate the digital world with ease and ease With a 5,100 mAh battery and speaker power to meet all the entertainment needs of everyone in the house.
Ready to own for a priceNothing but 4,990 baht
Take the technology experience to the next level Top Gadgets too
Upgrade your hi-tech experience with the latest gadgets such as wireless headphones. HUAWEI FreeBuds 3i That comes with a stylish design that is easy to carry. Compact size, easy to carry in your bag, full sound with 3 built-in microphones and Dual Mic Active Noise Canceling (ANC) Active Noise Canceling function that eliminates background noise. Don't worry about the noisy environment. Make every user experience smooth and hassle-free, and can be used continuously without interruption. Ready to listen with wireless headphones, clear sound Buy it at a special priceNothing but 1990 baht On Shopee
For hi-tech people who are not satisfied with promoting smart device innovation The great price that comes with all 5 of these items can go shopping with the Shopee 12.12 Birthday Sale campaign ready to send happiness to the end of the year with a super discount up to 50% with a discount code of 100 baht and a delivery code received. Free with no minimum when paying via AirPay Wallet at HUAWEI Official Store on Shopee or visit https://shopee.co.th/huawei_official_store
Source link