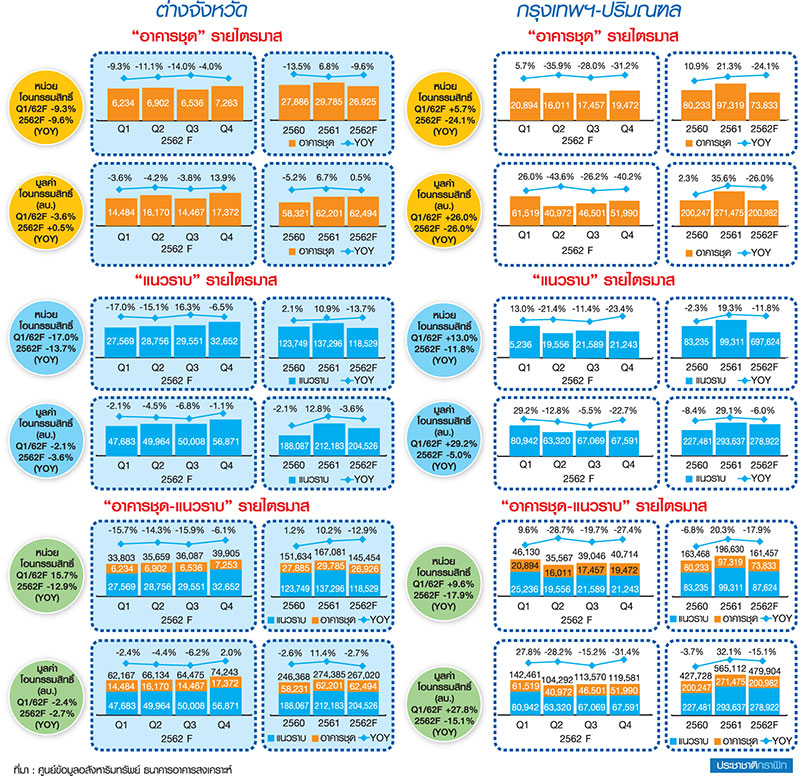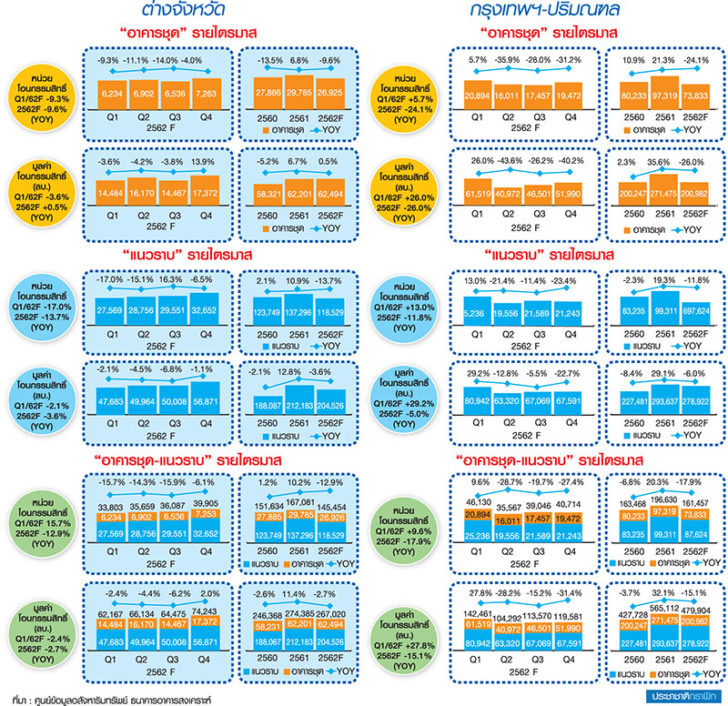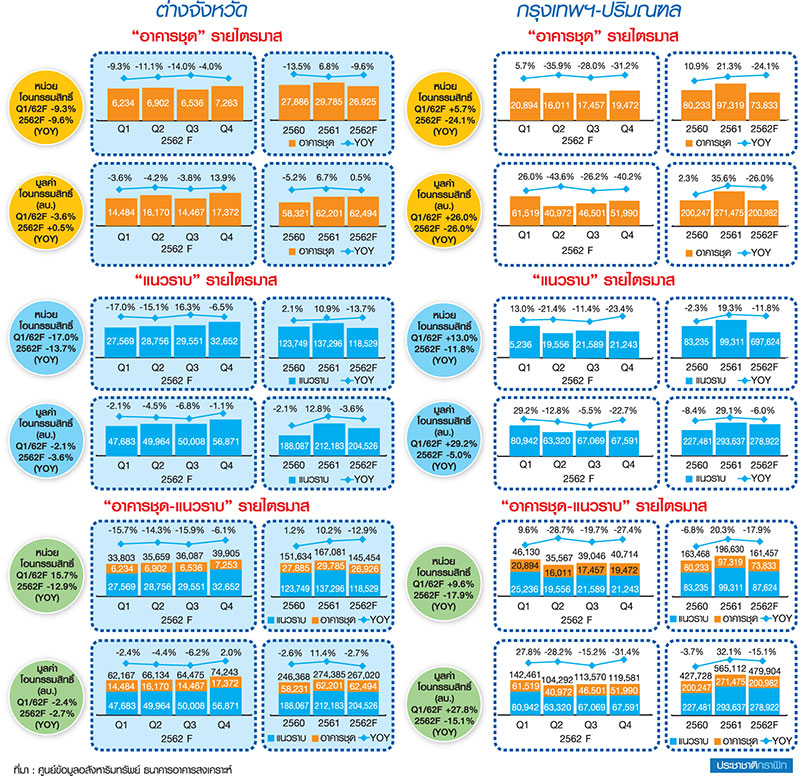 Drainage data, research results, transfer of ownership of "REIC Real Estate Housing Housing Bank Information Center" during the first two months of the year 2019 (January-February 2019) nothing fluttered The actual transfer trend is both uptrend. "Transfer Unit – Transfer Value" in the entire area of ​​"Bangkok – Metropolitan Area" and "Provincial" with the size of the residential companies, 20 provinces in Thailand
However, this year's special event, the real estate sector has to deal with the surrounding factors. Marking of measures of LTV loan on value, reduction of credit ceiling – Forcing down payment. The evaluation of the future 9 months (April – December 2019) returns to the downward area
Crucial year supply 2,600,000 units
Dr. Wichai Wirakaphan, the inspector of the Attorney General's Office and Acting Director of REIC, said the first investigation into the area in the country was available in the second half of 2018, including 264,531 units. Flat 85,850 units, 68,652 units, a total of 154,502 units in provincial areas, with 81,520 units, 28,509 condominium units, a total of 110,029 units
Therefore, Bangkok – Metropolitan Region, 6 provinces and 20 provinces in the province, with supply remaining, sold in the year 2019, divided into horizontal 167,370 units, 97,161 units, total units are 264,531 units.
LTV-Co-borrower – 100% release
The information that REIC is enabled. "Transfer of ownership" showed the first two months of this year with special factors, because the 1Q62 is the last quarter that buyers will be sellers with a low LTV. Buy a house with a down payment of 5-10%, but after April 1, 2019, etc. Go to the new LTV according to national banking rules Applying for a loan to buy housing after the 2nd had enforced a 20% down payment. There is an iron rule that makes the developer more uncomfortable. Joint recovery of new LTV
Co-borrowers, even if they were borrowed to use the loan When it was time to buy his first house, he was supposed to buy the first house. (The borrower with the main borrower already) was forced to make a deposit of 20% instead of 5-10%. The steel rule is not counted on the national bank to prohibit financial institutions from borrowing 100%, because it is assumed that they attract borrowers. Speculation and investors should, despite home loans, provide loans to borrowers who want to buy real estate for living.
All this is a pressure factor with which operators compete with each other to organize marketing campaigns to stimulate the buying transfer process. Since 4Q61, 1Q62 remained
The first 2 months of transfer
REIC information on housing transfers Bangkok – Metropolitan Region During the first 2 months of this year, compared to the same period in 2018, the transfer unit grew by 11.2%, the transfer value grew by 16.5%, divided into horizontal units, the transfer units grew by 8.4%, the transfer values ​​increased by 11.4% and the condos were transferred. 14.5%, transfer value grew by 22.9%, which means a higher average unit price in upcountry in the total transfer of units 5%, transfer value grew by 7.2%, divided into horizontal units, transfer units 3.8%, transfer value grew with 7.8%, condominium units transferred 10.9%, but the transfer value is only 5.3%, which indicates the average price Unit is not high
"In 1Q62, in addition to speeding up sales, transfer to escape the new LTV measures, the transfer still comes from the early demand that would have to be transferred in the second quarter to speed up the transfer. So we saw that the sales volume of the transfer was still growing. "
Trend adjustment balance for the year 2017
"Dr. Wichai" estimates, however, that the second quarter of the first quarter of LTV is effective. The atmosphere seems to shock consumers or borrowers. Entrepreneurs will keep going. Still confused. Have to wait to see the field data that LTV is as scary as you think or not. The direction of transfer in this quarter will certainly fall, probably 20-30%. The vision also includes the creation of a new government, probably an anode, which improves confidence. Psychological results therefore hope that politics can help in the remaining 9 months of the year. The focus is on the overall growth of 2018, with the transfer of ownership of the market in 26 national provinces. The transfer units grew by 15.4%, 363,711 units, the transfer value grew by 24.5%, 839,496 million baht compared to 2017, with a total of 315,102 transfer units, 674,116. Millions of baht, more and more driving, with an emphasis on unusually warm growth Even the National Bank had to install the real estate loan to relieve heat.
Leading to this year's trend, "Dr. Wichai" sees that the company will adjust to more balance by using 2017 as the base year for the extreme heat landing, namely the overall assessment of the year 2019, the transfer unit will return To 306,911 units, -15.6%, transfer value reduced to 746,924 million baht -11% if true if this means that the market has adjusted to be comparable to the base year, that is 2017, which is considered a company that occurs naturally Not caused by speculation or excessive investment
National Bank, P.R. LTV
Returning to the private sector "Te-Tritecha Tangmatitham", Managing Director of Supalai PCL, said many people fear that LTV measures will be transferred. What is not, it should be understood that at the end of Q3 / 61, there may be a number of customers who want to escape from LTV and accelerate the transfer but have 10% more than 20-30% as expected
Meanwhile, many people are concerned about the market. Bangkok – Perimeter, over-supply When the number of Supalai is counted, the Bangkok market has some worrying spots in the Purple Line. Better considered because there was no new stock, Ekkamai-Thonglor who had a lot of stuff to fill in the location
The rest must say that everything is normal. No problem with the new launch Making a pre-sales person is still normal. Supalai & # 39; s new project launch last year has a good answer due to location, customers, real demand such as Ramkhamhaeng, Democrat, as well as provincial apartment buildings. This year, sales have improved by 20% across the country such as Chiang Mai, Songkhla. Phuket, Rayong, Chonburi Prices do not rise. And some discounts at some locations
"The problem with LTV is that many customers come to us and mistakenly believe that they cannot recover. Even though some people never fully return to their lives. In fact, most customers are 80-90% unaffected by LTV because the most customers already buy the first one. Many people borrow more than 3 years, which means that he has to deposit the full down payment, but only 10% have nothing. "
Do ERA well – private, ready to go
Another big brand "Chang-Uthai Uthai Saengsook," Chief Operating Officer, Sansiri Plc., Said the LTV impact assessment is still too early because it is actually maintained for 1 month. Q3 or Q4 will be better? For example, Q2 is the worst thing people say, but Q3 America and China started fighting harder. The global economic situation is making things worse. Export is not good. Certainly affect Thailand We cannot predict anything at this time.
"We still don't see a clear picture today. Looking ahead, heavy rain Have dust in front But we still have to drive We slow down a bit. If something is ahead of you, you will immediately get the brakes. But if it happened for a while, it became dust erased We are also ready to step on the gas pedal. What the economy will indicate is that dust is fading Countries are changing GDP from 3.8% to 4.0%, better exports, private individuals are ready to move on. "
Source link