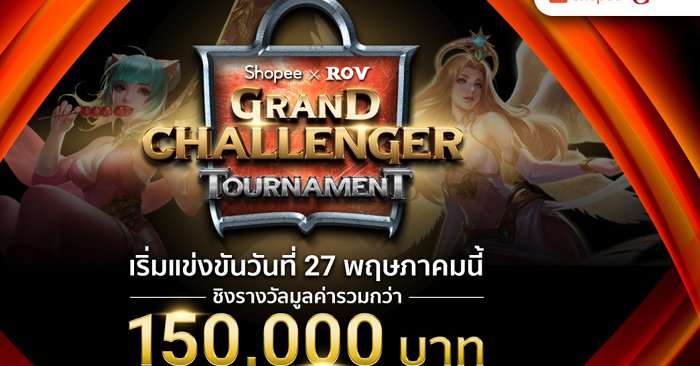 Store leaders, e-commerce platforms in Southeast Asia and Taiwan, join forces with Garena Online, a provider of online games and a leading communication platform. To launch together for the first time & # 39;Shopee X RoV Grand Challenger Tournament & # 39; The most popular competition for online mobile games in Thailand, Arena or Valor (RoV). The competition starts on May 27, 2019 and wins prizes worth more than 150,000 baht.
Agatha Soh, Head of Shopping Marketing (Thailand) He said: "We are very happy to launch Shopee x RoV Grand Challenger tournament For the first time, together with Garena Online, our digital entertainment partner
Different products for games and accessories in the past Is already popular with shopping And combined with the popularity of RoV games in Thailand This collaboration will help to build a stronger relationship for community gamers in Thailand and to create sports -sports can also reach more groups of people. "
Shopee x RoV Grand Challenger tournament Start the competition on May 27 in the Online Qualifying segment to find the last 4 teams participating in the semi-final on June 14 and the final on June 17 at
The competition took place in Garena E. Sports Studio, especially for the last 4 teams that participated in the semi-final and the final. Take part in the battle Celebrities such as gamers such as May Pitchanat, Jeep Lokchat and famous players such as Kit-ngai, Wa-Noi and live broadcasts of the semifinals and finals streaming through shopping life Opportunities provided for sports enthusiasts, e-sportsmen and shop users to easily and easy to follow the competition on the store app
"The possibilities in the e-sport industry are limitless. Everyone can enjoy the e-sport game." Khun Krit Pattanetha, head of Garena Online (Thailand) Company Limited "Today, the importance of the game industry and e-sports is not limited to the content of the game. But including the expansion of the ecosystem that connects the gaming and e-sports industries with different industries, game fans in Thailand are a important part of the community with a wide variety of fans, but with the same interest in the game.
With Karina as the center of all gamers We are very satisfied. That has worked with leading e-commerce platforms such as shopping. That is our important partner. We sincerely hope that this & # 39; Shopee X RoV Grand Challenger tournament & # 39; to help promote the community. Including strengthening Karina's intention to deliver products and services that create experience The best for our fans "
RoV Shopping offers special offers and promotions especially for fans. During the tournament For gamers such as
Display the cash code every week. Allow gamers to shop Karina Shell most when shopping With a code to receive a refund in the form of Shop Coyines, up to 50% for orders for Garena Shell specific
Buy Karina Shell in a temporary deal. Don't miss the special price of Garena Shell every Friday at 1 p.m. and 7 p.m.
How much can Garena Shell buy to get back? For those who bought the first 3 Garena Shells weekly, go back to the number of Garena Shell orders every Friday.
Users can register to participate in this tournament from 17 to 26 May 2019 at https://esports.shopee.co.th.
Follow more details and update the latest campaigns on Facebook Fan Page Shopee Gamers www.facebook.com/ShopeeGamers Download free shopping apps from the App Store and Google Play Store.
News item
Source link