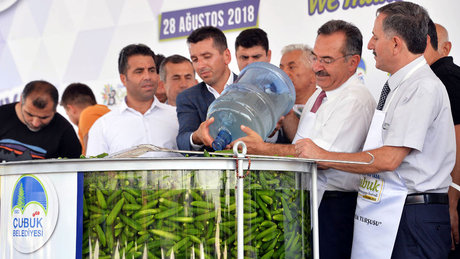 September 13, 2018 Thursday, 12:19:41 update: 15:04:45 Number of watches:
Ankara's famous bar-mushroom hosted an interesting record experiment … A pickle of half a ton was created for the international bar culture and the pickle festival. Giant pickle guines is a candidate for record …
The child, young, old, has gathered hundreds of pounds of gigantic coconuts and has prepared the world's largest pickles. The specially prepared gigantic kavanoza brine of 1.5 tons was established. It is a world record experiment. The famous bar city Ankara was the scene of the experiment. 840 kilos of cucumber, kilo of garlic and bay leaves were used for the world's largest pickles. 800 liters of circulating water were prepared. Çubuk Mayor Tuncay Acehan, Chamber of Commerce of Ankara, chairman Gürsel Baran, Nutrition and dietitian Ender Sarac, nutritionist and writer Sahrap Soysal and many other Çubuklu also witnessed this record test. The goal is to set up the world's largest pickle and enter the Guinness record book. The large pickle is invited to the International Çubuk Culture and Pickles Festival & # 39; which will be held on 13 and 16 September. The result of the record experiment is also announced at the festival. This year the target is to export 10 thousand tons of pickles to many countries, including Cuba, the US, the United Arab Emirates, Qatar, Bahrain and Iraq.
---
Source link