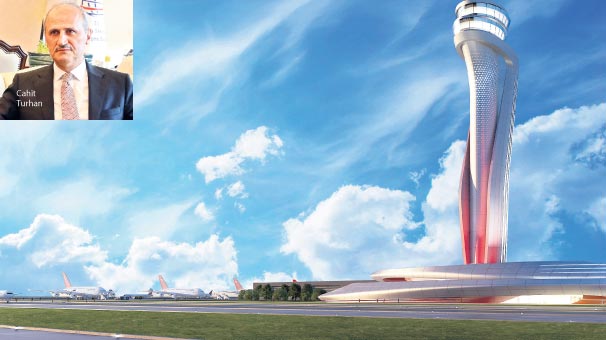 Transport and Infrastructure Minister Cahit Turhan, the first phase of President Erdoğan will be opened on October 29 in Istanbul about the new airport "Annual 200 million passengers Istanbul New Airport, will have a new page in the history of Turkey's aviation," he said .
Minister Turhan, the State Airports Administration (SAMA) Directorate General said the giant project of Turkey performed successively and continue to participate in the value of value. When it is finished, it is one of the largest in the world Istanbul New Airport in the first stage of intonation inaugurated by President Erdogan Turhan, "the annual 200 million passengers will have the capacity and the first phase will be launched on 29 October, Istanbul New Airport, new in the history of Turkey's aviation will open a page, "he said.
& # 39; 225 thousand people work & # 39;
Explaining that the airport will directly and indirectly provide 225,000 jobs, Turhan added that 1.5 million people will benefit from the added value. Turhan stated that there are 32,000 employees, including three thousand 200 employees in the construction phase, and that they are served with more than 300 destinations, including 250 international lines and 50 domestic lines.
& # 39; 200 soccer field & # 39;
Noting that the new airport will be one of the largest hubs, Turhan noted that the new airport consisted of a terminal with 6 independent tracks and 200 football pitches. Turhan stated that 114 aircraft could reach the terminal at the same time and could operate aircraft with 143 bridges. Turhan said the terminal had 7 access gates and that the new Istanbul airport would gain strength in the cargo while the trade shifts to the Asia-Pacific region. -ANKARA AA
Continue on the 2nd slope at Sabiha Gökçen
Minister Cahit Turhan of Transport and Infrastructure said that the second runway at Istanbul Sabiha Gökçen went in two phases. Turhan stated that & # 39; Sabiha Gökçen Airport 2nd Pist and Mütemmimleri & # 39; 95 percent level of the 1st degree reached. Turhan, Ankara Esenboğa Airport said that 91 percent of the construction and repair of PAT sites was completed.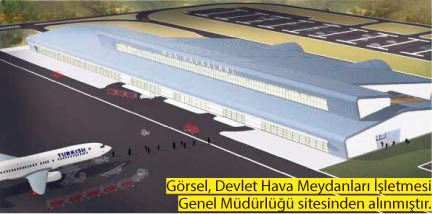 "Mus Sultan Alparslan Airport at 71 percent level & # 39;
Minister Turhan explained that new terminal buildings of Kahramanmaraş, Muş Sultan Alparslan and Balikesir Central Airport will be completed and opened for use in the course of the year, as well as Istanbul's new airport. The new international terminal building of Mugla Dalaman is open for maintenance from 5 July. Turhan said the new international terminal building of 125,000 square meters has an annual passenger capacity of 5 million passengers. Muş stated that the construction of Sultan Alparslan Airport Terminal Building reached a level of 71 percent and that the work at the airport, announced by President Recep Tayyip Erdoğan as Muş Sultan Alparslan Airport, is also proceeding rapidly. Turhan said the airport is 2 million passengers a year.
Original architecture
Turhan stressed that 95 percent of the new Terminal Building of Kahramanmaraş Airport, undergoing construction studies, is being completed quickly. Turhan stated that the terminal building of 22,000,330 square meters, which has an annual capacity of 2 million passengers, also attracts attention with its original architecture.
Turan also noted that the terminal building and the mutemmimleri construction at Balikesir Central Airport also reached a level of 79 percent. Turhan said that Balikesir Central Airport will have a new terminal building with a capacity of approximately 1 million passengers and 6,500 square meters when the project is completed.
THY will enter the new airport with national costume & # 39;
Bilal Ekşi, General Manager of Turkish Airlines (THY), who is preparing at the new Istanbul airport, said that the new concept they had prepared for the new airport and on the plane was visible and that they worked with famous companies for flight personnel and new uniforms. Sin, "National clothing in color will be the new face of THY." At the new airport we will be new. "Our passengers, who saw their clothes coming, said:" This is what they will wear. "
Internet incident
Ekşi said that the tender for the provision of internet services on the 150 narrow flights of THY body planes would be completed within a month and said "We are going door-to-door via the internet". Declares that the internet service on the airway is more than 10 thousand feet active, Ekşi continued: "The passenger wants to stay connected with his phone." Because they are dependent on the youth of the young population, catering starts to become a priority. trend in the world, we will make a major investment to provide internet services in our narrow body planes.As well as 10 thousand feet instead of & # 39; door-to-door internet service, we'll go in. So when you start it to push back plane, you will be connected to the internet, and you will be connected until you get in. "
Source link