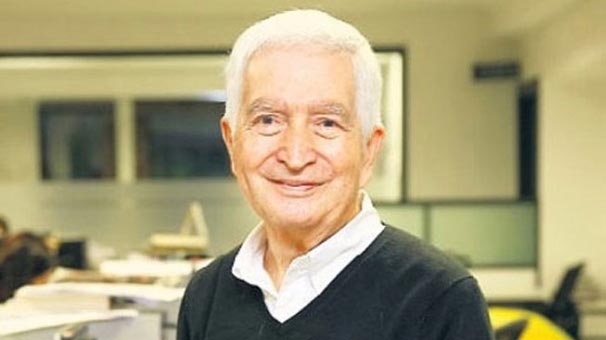 Vice President Fuat Oktay regarding the death of the Güngör Uras & # 39; s, "veteran pen of economic journalism Professor I wish Mercy Güngör Uras of God." Makes an important contribution to the economy of Turkey with text and advice, the work is understood by everyone from economy
Minister of Finance Berat Albayrak: Albayrak published a statement from his Twitter account and said: "The very valuable Güngör Uras
I have passed away from the lord with great gratitude that Güngör Bey, who explained the economy in an easy and understandable way with his "Auntie Ayşe Economy", was an important value for our country. I use mercy for Allah and patient patience. "Lost a Thoughtful Human"
Cumh The spokesman for the president İbrahim Kalın, published a condolence message on the official Twitter account of Uras & # 39; death. "I am grateful to Prof. Dr. Güngör Uras, a respected economics professor, and I want to express my condolences to his immediate family members." We lost a dear person who drew attention to financial literacy and economic priorities of our country with every simple and simple dignity. "
" We live in a state of misery that the master economist Gungor Uras loses, who makes valuable contributions to understanding the economic world of Uncle Ali and Ayşe Teyzen. "
Presidential communication chairman Fahrettin Altun In a statement he made from his Twitter account, " regret to inform me that he the life of Gungor Uras was sad. Gungor Uras has given expressions that are important for the planned economy and the growing economy, with the emphasis on industrialization, agriculture, production, saving and becoming a paradise in space … "
Hürriyet Newspaper editor Vahap Munyar CNN TÜRK live broadcast of the loss of his life, said:
"in the first period of TÜSİAD when the general secretary came to Istanbul Güngör brother since that time It was a very important economist. It was an important value for the journalists. I'm really sorry to call her. I went to the hospital a week ago and it was very difficult for her assistant to write both Milliyet and Dünya Newspaper. A new book appeared,
"THE MOST GOOD QUALITY OF ANADOLU"
Chief editor of the world newspaper Hakan Güldağ CNN TÜRK broadcast live about the loss of life of Güngör Uras said:
"It is impossible to fill in Earth Newspaper's first writers I have not been able to write about her every day, trying to pass on his information to his readers as much as possible, a life that must be appreciated. Secretary-General of TÜSİAD as well as the journalist and columnist.Anatolia kept the pulse very good.It is a person who is very involved in business.It is a huge loss for us all.Turkey thanks to a lot of people have all helped us to go with the idea of ​​the mind in terms. "
" DREAM OF LIFE had PRODUCTION "
Milliyet newspaper Business Manager Şükrü Trophy CNN broadcast live Güngör Uras, related to the loss of life to hear:
"There was an urgency. It is not only our skill, but also the contribution of the Turkish economy, based on the planning of the state and the arrival of many special groups today. Imaginary, I made a living. I wish Allah had mercy if we lost a worthy name. We were together three days ago, we would be together on the first day of the festival, but it did not happen. He was good until the last moment and he never lost the excitement he had when he was disappointed. Aunt Aeya had brought her character to life. Aunt Aisha is the place to tell if she was orphaned.
Milliyet Newspaper Journalist Servet Yildirim CNN TÜRK said in his live broadcast about the loss of life of Güngör Uras:
"It is a great point that points to important notes. Last seen on Thursday, there is a very different place for our profession, especially someone with a very different direction for Turkey, someone who can tell the economy in the most beautiful way, and the direction of knowledge is a very broad name. The economy has always been in love and has always been one of those who did not produce anything.I wrote a quote from the article of Güngör Uras in the tree I wrote yesterday.A great teacher for us is a great master.For years wrote he also the kitchen, a multifaceted personality is a huge loss for us and we are all right. "
Source link