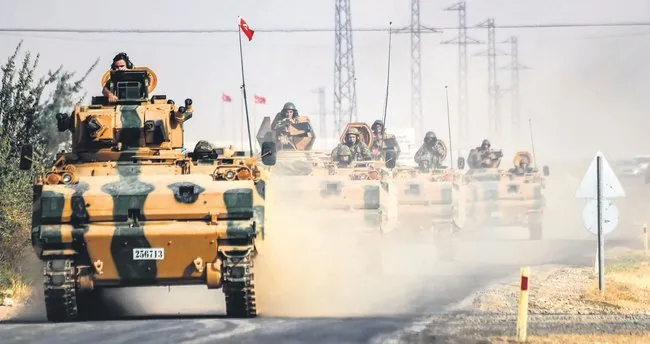 The Turkish armed forces (TSK) launched a military operation two years ago at four o'clock in the night to rid the Cerablus region in Syria of the elements of the terrorist organization DEAŞ and the plan to use PKK-YPG elements. open to the Mediterranean by deleting a terror zone. The operation was called "Firat Kalkan".
Members of the Free Syrian Army (OSS), who acted with the Turkish troops during the operation, quickly cleared Cerablus territory from DEAS terrorists. In the areas cleared of mines in Cerablus, the Turkish Red Crescent began providing humanitarian aid to the needy and distributing hot food.
The operation got a new line on September 3, 2016. Armored vehicles from the TSK went to the Çobanbey district of Syria. The Turkish soldiers who passed the Elbeyli district of Kilis opened a new front. Operation of the border between Syria and Turkey on the 12th day Çobanbey and Jarabulus, brought a generation free of terrorist elements to occur. Syria in Turkey from the border in the direction of safe zone has a depth of 3 to 5 kilometers, with edge Dease with Turkey lifted the physical contact directly to eliminate. The area where the ÖSO was rescued from terrorist organizations DEAŞ and PKK-YPG approached 600 square kilometers.
After intercepting the border with the terrorist organization, security zones were widened. During the two months after the start of the operation, opposition elements controlled 159 inhabited neighborhoods covering an area of ​​approximately 1,280 square kilometers. In the final stage of the operation, the new target was the terrorist elements of Al Bab. The check at El Bab was on February 24, 2017.
The General Staff stated that the operation of Fırat Kalkan was successfully completed with the Declaration of March 31, 2017. More than three thousand terrorists have been inactivated military operation flushed out of the region and ensuring border security as well as members of the terrorist organization PKK terrorist organization DEAS-ypg & nb; s called cantons to join their plan to join the border with Turkey.
THE ROAD BUSINESS
2,000 55 square kilometers in northern Syria has been cleared of terrorism in the past 2 years, the population of the region reached 1.5 million. Five thousand police officers trained in the security of the region are provided. 6.000 teachers in 500 schools and 200 thousand students are taught. In addition to the health centers in the region, hospitalized hospitals are also being built. 500 chaplains trained with help from Turkey, doing so many mosques in the changed task. the people of Abu Futuh, "Turkey support mosques, roads, schools, hospitals began to serve again." Also olive branch after the Euphrates Shield Operation has become.Our region has become safer, "he said.
Source link