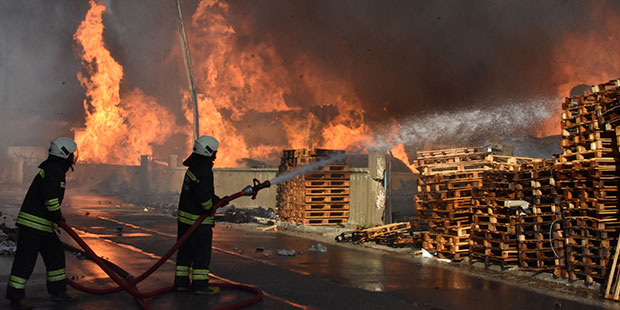 Fire broke out in Konya for a reason that was not yet determined in the wood and decoration workshop.
The flames rose in meters and the fire jumped into the workshop next to the workshop. Fire crews started firefighting work.
Located in the Marangozlar Industrial Estate in the Karatay district in the middle of the fire Hasan Cinarthe carpentry and decoration workshop.
Many firefighters, police and health workers were sent to the scene as they surrounded the area with heavy smoke. Firefighters wanted a helicopter for air support.
Çınar tried to calm his family, who had a nervous breakdown in his job over the flames.
Work is being done to extinguish the flames.
window.fbAsyncInit = function() { FB.init({ appId : '232148700181828', channelURL : '//t24.com.tr/channel.html', status : true, cookie : true, oauth : true, xfbml : true });
FB.getLoginStatus(function(response) { if (response.status === 'connected') { var uid = response.authResponse.userID; var accessToken = response.authResponse.accessToken; //alert("şimdi sign in ediliyor"); userLogin("facebook",response.authResponse.accessToken,"update");
} else if (response.status === 'not_authorized') { // the user is logged in to Facebook, but not connected to the app //alert("signed in but not connected "); } else { // the user isn't even logged in to Facebook. } });
FB.Event.subscribe('auth.login', function (response) { //alert("şu an giriş yapıldı. token:"+response.authResponse.accessToken); userLogin("facebook", response.authResponse.accessToken, "update"); });
FB.Event.subscribe('edge.create', function (targetUrl) { PUBLIK.trackSocial('facebook', 'like', targetUrl); });
FB.Event.subscribe('edge.remove', function (targetUrl) { PUBLIK.trackSocial('facebook', 'unlike', targetUrl); });
FB.Event.subscribe('message.send', function (targetUrl) { PUBLIK.trackSocial('facebook', 'send', targetUrl); });
//bindEventTracking(); };
(function(d){ var js, id = 'facebook-jssdk'; if (d.getElementById(id)) {return;} js = d.createElement('script'); js.id = id; js.async = true; js.src = "http://connect.facebook.net/tr_TR/all.js"; d.getElementsByTagName('head')[0].appendChild(js); }(document));
// facebook dpa audience (function(){ var _fbq = window._fbq ||(window._fbq =[]); if(!_fbq.loaded){ var fbds = document.createElement('script'); fbds.async =true; fbds.src ='//connect.facebook.net/en_US/fbds.js'; var s = document.getElementsByTagName('script')[0]; s.parentNode.insertBefore(fbds, s); _fbq.loaded =true; } _fbq.push(['addPixelId','829603620417104']); })(); window._fbq = window._fbq ||[]; window._fbq.push(['track','ViewContent',{ content_ids:[(Math.floor(Math.random() * 10) % 2) + 1], content_type:'product' }]); // facebook dpa audience done
Source link