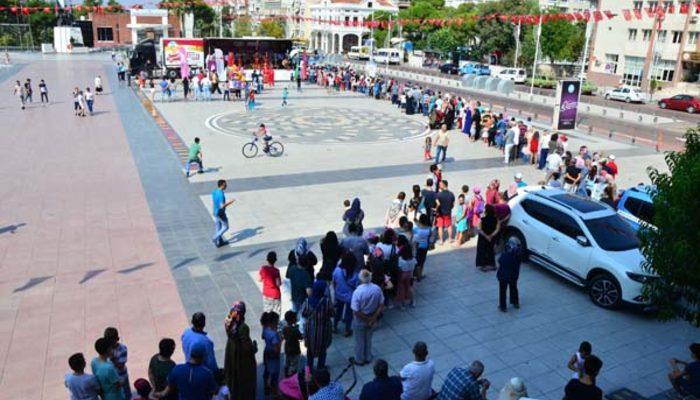 On the Cumhuriyet square, while free ice cream of 1 ton Kahramanmaraş was distributed to Manisalılara, those who want to buy have formed a row of several meters.
1 / 7
Free ice was distributed by the Kahramanmaraş municipality on Cumhuriyet Square in Manisa. Kahramanmaras & # 39; 2-stage International Ice Cream and Culture Festival for the promotion of the International Ice Cream TIR ı met with interest in Manisa. Citizens came in line hours earlier to get free ice cream.
2 / 7
While the ice creams grew a meter, those who wanted to cool down in the heat did not come out of the tail. Kahramanmaraş ice masters also made different shows and entertained the citizens.
3 / 7
Some civilians have struggled while trying to cut off the gigantic Kahramanmaraş ice cream.
4 / 7
From time to time the queue ran up and there was a row of discussions. With the beginning of ice distribution, ice was almost competing.
5 / 7
Hundreds of people looked at the taste of Kahramanmaraş ice cream.
6 / 7
Kahramanmaras Metropolitan Municipality Department of Cultural and Social Affairs Personnel Şaban Yumruk, "We are organizing the 2nd festival this year, we will continue to introduce the ice cream that is the brand name of Kahramanmaraş in the cities." Our ice cream TIR forms the Anatolian leg of our festival. held on September 16. We distribute 1 ton of ice in each city of Anatolia with our ice cream TIR.
Source link