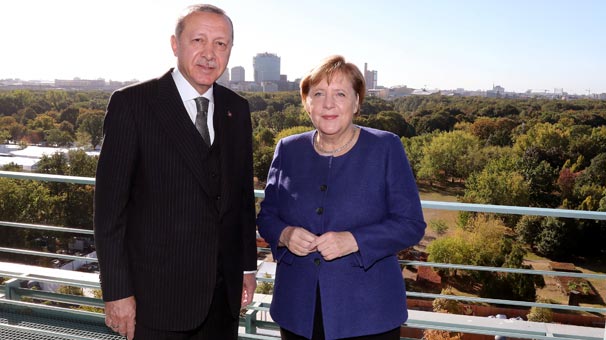 Erdogan, Twitter account, shared his visit to Germany.
"I believe that our visit to Germany will further strengthen the old Turkish-German friendship in every way." Erdogan, president uses the expression, a visit to the "painful Germany periods lags behind, now", "Turkey will continue the reforms", "We have the same perspective with Germany in Syria" and "Our economic and trade relations with Germany will continue to strengthen "evaluated under the headings.
"We have had the opportunity to intensify dialogue in many areas through a state visit to Berlin," Erdogan said as he went through a revival of relations with Germany. We leave behind the painful period in the past. "found in the evaluation.
Erdogan, the state of emergency is a constitutional mechanism in Turkey after July 15 treacherous attempted coup to combat Feton and extension (State of Emergency) application of recalling its June 24 elections lifted, noted that the presidential government system to pass the re-reforms of the country and introduced to the path.
Advances are determined to be the European Union (EU) will continue the reforms within the framework accession process, Erdogan still stands on visa liberalization 6 criteria are met as soon as possible, "Turkey's European Union membership process should not be exposed to a certain environment grilling and political obstacles. Germany we care housing will give support to Turkey. "He said.
"We want them to continue to rely on the future of our country"
Erdogan, said:
"And that is another issue that we discussed our visit in the issue of ending the war in Syria, we see that we have the same perspective with the Syrian issue Germany." Germany is the sensation pleasing to show Turkey in particular the human measure."
That of relations in the economy and trade with Germany is striking how strongly suspected Erdogan foreign trade figures between the two countries, Turkey has said to want to make this relationship even stronger.
German entrepreneurs since 2003 in Turkey with $ 9 billion in direct investment, the experienced increase of more than 13 percent in the last seven months, the bilateral trade volume in that reveals the potential of trade relations to import President Erdogan, "German our friends in Turkey, Turkey economy, we want to continue to rely on the future of our country. "He expressed the place.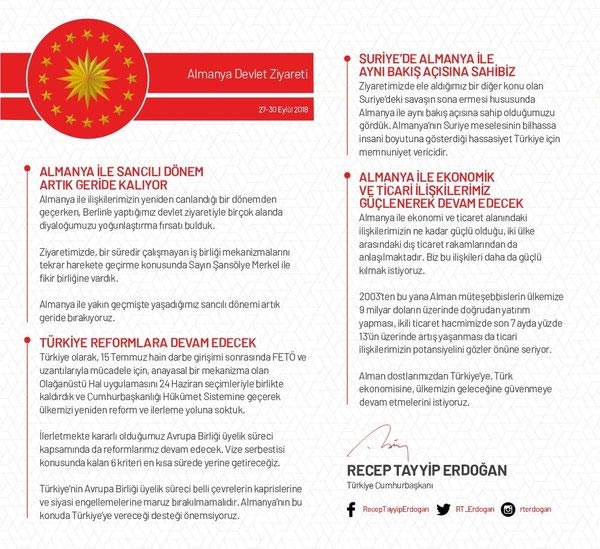 I believe that our visit to Germany will further strengthen the old Turkish-German friendship in every way. pic.twitter.com/yepw2jfv36

– Recep Tayyip Erdoğan (@RT_Erdogan) September 30, 2018
Source link