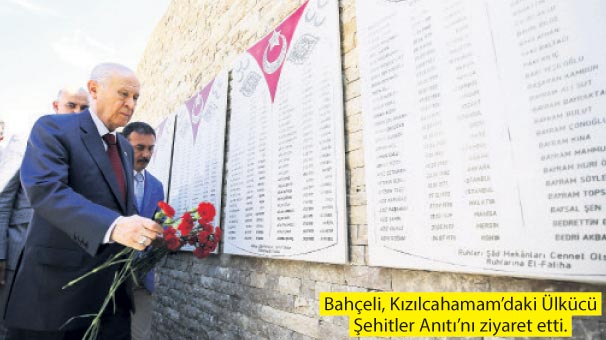 Bahceli said: "It is my main wish that the Festival of Sacrifice we meet cherishes hope in the time when we are struggling with the problem that is focused on our political and economic wavering, the whip of our ancestors and rooting our unity and unity. The Feast of Sacrifice will speed up the ranks, strengthen our bond between brotherhood and further strengthen the national and spiritual mood. "
& # 39; Treacherous plan & # 39;
Bahceli, said: "It should be known that the tyranny of Turkish-Islamic geography will not be silent, we will not miss our oppressed on these blessed days, we will infiltrate the arrangements and fall out of looking outbreaks that baby & # 39; embracing, helping and letting go.We will not give happiness to the Chaos apostles and crisis dictators.I believe that economic sanctions, embargoes, blockades, plans, sneaky surgeries and other games will be unfounded in the light of the unity and solidarity of your holy nationality We will sacrifice, we will only sacrifice our victims who are waiting for Allah, but we will not sacrifice the motherland, we will not sacrifice the nation, we will not sacrifice our independence. "
& # 39; Trump, missed the scale & # 39;
MHP president Devlet Bahceli visited the Nationalist Martyrs Monument in Kizilcahamam yesterday with his delegation. Bahçeli greeted the party members who came to meet him one by one and left the red carnation after reading the Holy Qur'an. Afterwards Bahceli went to Gökbükü Otağı, who was built in the monument, answered the questions of journalists about the agenda at the exit. Bahceli, a journalist, "the US president, Donald Trump comes from Turkey's target area descriptions." Finally, the priest Brunson is not subject to a fair trial and that his spies and also claimed that he used threatened language to Turkey once more. do you evaluate these statements? "He said:
"Trump, he missed the scale, he does not know what you're saying, she talks to Twitter, but she can not read what she has written, and in this respect there is no one to be taken seriously. attitude, America will have to do it here in Turkey, I believe in him. "
Bahceli, about a question about the opening of the fire in the US Embassy: "It is not a right move." Republic of Turkey must investigate the matter, such behavior should not be allowed, "he said.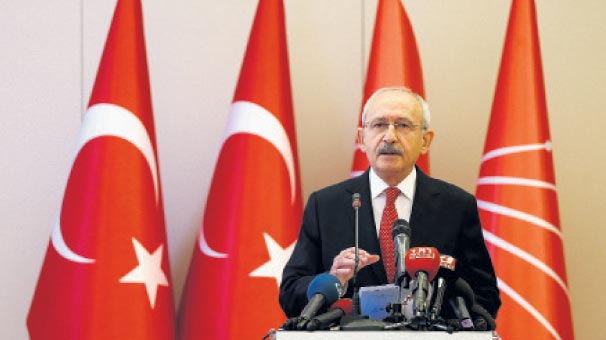 COMMERCIAL CRISIS IN KILIÇDAROĞLU NOTICE: POLITICAL CRISIS NOT ECONOMICAL
CHP leader Kılıçdaroğlu in his message, criticized the actions of power. Kılıçdaroğlu has the following evaluations:
"The image of the Islamic world is far from the material and spiritual climate of the festivities.This regrettable state of the Islamic world is also largely applicable to our country.Turkey, society is not equal economic opportunities for all segments, & # 39; nepotism and yandaşç & app; because justice is that there is no economic life, which limits employment with merit outdoor applications, scientific contemporary, the shift of secular education, not to beat poverty, poverty manage / enlarge target programs that emerge, international corruption, which does not provide citizens with taxpayers' money, have become a last resort in the indices of strong media freedom and the rule of law, and we are faced with a crisis in which the consequences for the low-income groups of society are getting bigger every day From what is often thought, this crisis is not just an economic crisis, but a political crisis. Because Turkey is not managed, Turkey is thrown.
& # 39; The resort is available & # 39;
But our country is desperate of this cruelty. The Great Leader Mustafa Kemal Atatürk had the foundations of our republic, created by the orphans, with a "secular, democratic and social state of law". issued. This is the driving force that will provide solutions to today's problems. Producing, sharing in a fair way and respected in Turkey, but in the world & # 39; secular, democratic and social rule of law & # 39; can be achieved with understanding.
Hello with Berberoğlu
With these feelings, as a political hostage, I send myself with great desire for my greetings to my good friend Enis Berberoğlu, a member of parliament in the Maltepe prison in Istanbul. Eren Erdem and other detained journalists, politicians and thinkers are imprisoned because of their illegal practices with the fugitive who has lost his independence; and I see that we will soon overcome this arbitration for our friends. Great leader Atatürk, especially his weapon friends; I am gracious to our martyrs who have lost their lives in the attacks of terrorist organizations, especially in the cases of FETO, PKK and ISİD and their fight against these terrorist organizations. "

& # 39; Mountain, exceeds the limits of criticism & # 39;
Spokesperson for AK party Ömer Çelik said AK Party Deputy Chairman and Izmir deputy Hamza Dağ did not approve of the words to 11th President Abdullah Gul.
Ömer Çelik, "We do not accept statements that go beyond the limits of criticism, and the expression of this friend is an exaggeration that exceeds the limit of criticism." Mr. Abdullah Gul, deputy member of parliament, ministry, prime minister, presidency In this respect, we remind our general primates of the use of careful, careful language. "DHA
& # 39; You raise our fateful hopes & # 39;
HDP apprentice leaders Pervin Buldan and Sezai Temelli's party message said: "In order to achieve a land-based and territorial struggle in which children and young people are not dead, women are not subject to violence, nobody is forced to migrate from their hometown , racist and anti-we hope that this Eid al-Adha will increase our hope. "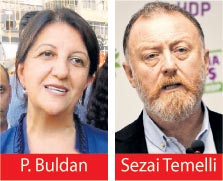 Source link