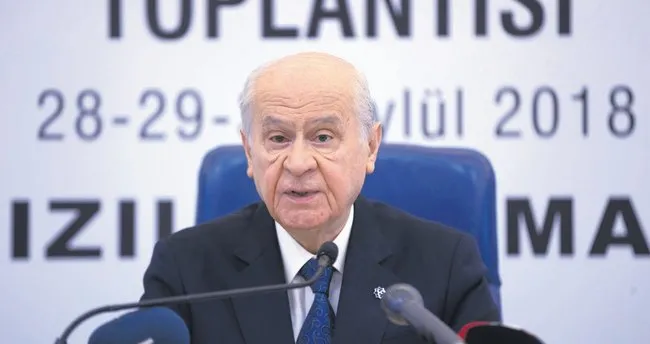 MHP chairman Devlet Bahceli, the MPs of the party, VQA and the Central Discipline Council with the participation of members of the camp at the conclusion of the camp in Kızılcahamam found. Bahçeli, evaluation of local elections and economic developments, said:

NEAR SPRING IN THE ECONOMY:
The internal and external circles that could not lift the new government system were playing a crisis. The National will not pass, can not be called friends and allies of Turkey on the knees countries have expressed openly in Turkey. To the right, Turkey is not a crisis, was exposed to the economic mahiyetl crusader invasions. Established spirit of national solidarity was broken by the counter to overthrow the Turkish economy. A cloud of dust broke out with government interventions. As long as both the new economic program and other government measures are implemented in a permanent, stable and inclusive manner, the recovery and expected spring will not be far away.

FRIENDLY MESSAGES:
May the Unity of the Republic personally know the will of the Republic. If we find it difficult to understand, the President of the Republic is the appreciation and will of our nation itself. Praise has the power of the President of the Republic. Those who are busy with the tactics of the head and who are busy with the cleverness of the mind may feel discomfort from within the Republican Alliance. But this alliance will live; this alliance will be a permanent message to friends and enemies.
CHP CAN NOT:
While the nation remains unemployed and poor, it is no different than Trump's ambition to block the debate about whether the government is worn or worn out. We can not be like CHP, we can not behave like CHP. We can not resemble other candas, comrades and residents' reservations. We are Turkish nationalists who find their existence and indispensable values ​​in the Turkish nation. Turkey knows that we all lose when he loses, we believe.

ALL OTHER PROPOSALS OTHERS:
We want to discuss all aspects of the amnesty offer. The development of the legislative proposals and the attitudes used are independent of the Cumhur Alliance. Our alliance is different. Each number must be analyzed at its own location, in its own case. It is my wish that I should not confuse the attitudes that will be shown against the Alliance's bill with the Alliance and ignore those who try to take control.
ERDOĞAN WAS THE GLOBAL JUSTICE FOR THE MEMBERS
Prime Minister Recep Tayyip Erdogan at the UN General also addressed the speech at the Garden Council, "President Erdogan's face, staring right in his critique of the system of interlocutors, global justice call, prosecution and conscience shouting of Turkey justified and legitimate position against misconduct was almost engraved in memory "he said.
Source link