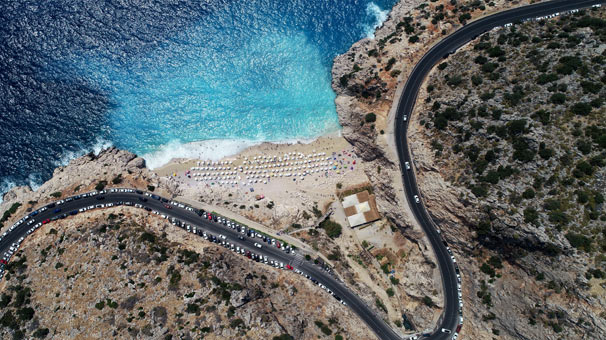 The plaja, which is located in the border of Kalkan Quarter and is managed by the municipality of Kas and which is free to enter, is reached by descending from the steps along the road.
The unique color of the water changing from open green to blue, Kaputaş is shown among the most beautiful beaches in the world with its untouched nature.
Those who travel to Fethiye-Kaş do not pass the photos with their Kaputas beach as a fund.
Kaş Mayor Halil Kocaer told AA correspondent that he traveled to Kas at the desired level of tourism since July 15th.
Kocaer, who stated that he had made the summit during the tourist holiday in the district, said: "Kaputas, one of the most beautiful beaches in the Mediterranean, became a frequent destination for all tourists and the beach that is already famous for it, attracts more and more attention from local and foreign tourists every day, "she said.
Kocaer recalled that the complaints of nature in Kaputaş were destroyed and cemented, and Kocaer said that everything made is wood, handmade and controlled.
"A NATURAL NATURE OF BEAUTIFUL"
Kaş Municipality continues to serve as tourist and guests describe the Kocaer, said:
"Kaputaş does not stay in one color in summer and winter, it has the shape of a rainbow in stages, up to five edges, sand, pebbles and beach in Kaputaş are completely natural, there is no extra gravel in Kaputaş. And the integration of the Kaputaş brings color to the foreground, and the circulation of wild goats at the top of the beach adds beauty. "
Kocaer, for the promotion of Turkey that many beaches, Kaputas also stressed that one of these.
Gökhan Yıldırım, who was on holiday from Istanbul, also stated that he had seen Kaputaş for the first time and had never seen such a clean sea.
Noting that it is the perfect beauty Kaputas de Lightning, said that one of the must-see beaches in Turkey.
Meltem Zengin also said that the view of the beach was beautiful with the beauty of vacationers.
Noting that many colors are blue in the water, Zengin stated that Kaputaş has extraordinary beauty.
Onur Şener also said that he came to Kaputaş on the recommendation of Kocaeli and he really liked it.
Source link