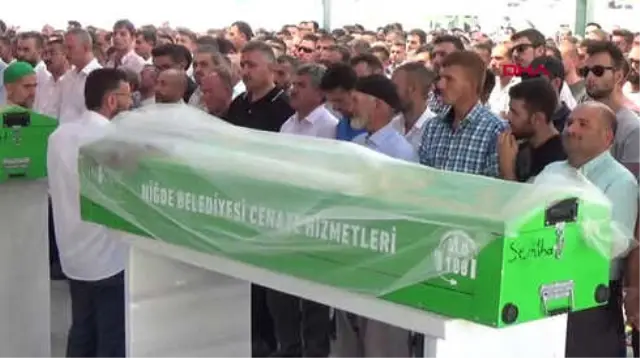 The twin brothers Samet-Semiha Açıkel (29), who had lost their lives yesterday in a car accident in Kayseri, got together in Niğde. Semiha Açıkel, who lived in Niğde and held a wedding on 20 September, went to picnic with her twin sister Samet, her mother Ümmü Gülsüm Açıkel and her fiancée Yasin Şahin in Kayseri for the Kapuzbaşı waterfall. Here, in turn, Burak Atasever's 38 HB 348 plate car, Samet Açıkel & # 39; s 51 AAF 630 plate car and Breath Serin & # 39; s 02 HZ 837 plate car, still unknown reason, on the Yeşilhisar-Yahyalı- road Çadırkaya Neighborhood crosses collided. While eight people were injured in the accident, the twin brothers Samet-Semiha Açıkel, who was trapped in the car, lost his life. For the twin brothers, the funeral was performed in the Fatih Sultan Mehmet mosque in Niğde, today after the funeral prayer. During this ceremony the father of the Opener brothers Muammer Açıkel and his family members, Niğde Mayor Rifat Özkan, AK party chairman Mahmut Peşin, AK party Niğde deputy Yavuz Ergun was present.
TABUTUNA BOTTLE COVERED
The ceremony of Semiha Açıkel, whose wedding will be held on September 20, is covered with a veil. After the funeral prayer, twin brothers were buried in tears on the Derbent cemetery. On the other hand, it was learned that the mother of Ümmü Gülsüm Açıkel, the mother of severely injured brothers and sisters, and Yasin Şahin, the fiancée of Semiha Açılel, and the other 6 wounded, went on to the Kayseri State Hospital.
Source link