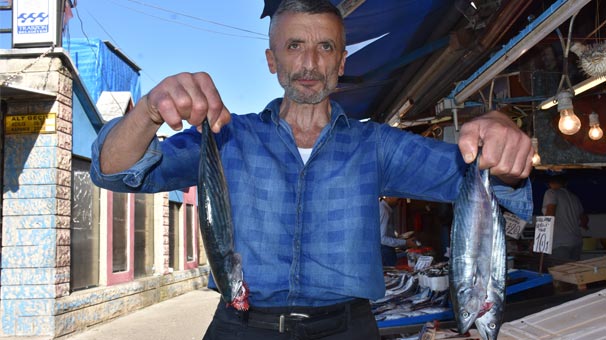 Since 15 April, when the hunting ban started on seas, few fish have been caught by coastal fishermen and stagnation in the stalls due to high prices.
Some of the farmed fish produced on the farms are hopeful about the new hunting season, where fishermen who turn to selling fruit and vegetables will reopen their worksheets. Turgay Memiş, who sells fish to rubble, told AA correspondent that after 1 September, people from the Black Sea and Trabzon would be satisfied with the palamud.
Memiş said that they are expecting a plentiful bonito this year: "We are now taking 7.5 and 8 lira's from 7.5 km of coastal fishermen and selling them for 10 liras We do not win much money, but we try to eat fish for the Citizens, citizens also ask for fish, it is waiting for 1 September, "he said.
Serdar Korkmaz said that the bonito was taking its place on the counter and said: "The fishermen, called oltacı, bring products because they are not allowed to hunt at the moment and we expect to have a lot of bonito after September 1st. she Mustafa Ayata, who has been selling fish in Balıköy for 60 years, declared that they are hopeful of the new sensation and said:
"I hope that the bonito will be plentiful this year, but we will not be an anchovies because the bonito is eaten by the anchovies, we sell between 12.5 and 15 lire of new harvest and after 1 September we expect to have the harlegs on the liras. sell for 2.5 lira. "
Eyup Ertaş also expressed the hope that this season will be abundant and fruitful, adding that citizens expect fish prices and that fish prices will fall after 1 September.
Source link