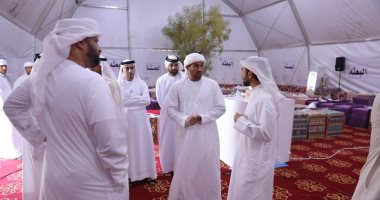 The Head of Mission praised the great cooperation and facilities provided by the Kingdom of Saudi Arabia and the office of the Pilgrim Affairs of the United Arab Emirates of the General Authority for Islamic Affairs and Donations in the State for the convenience of pilgrims and those simple schemes that enable everyone to perform the Hajj conduct in the light of the statutory checks made by The Prophet (peace and blessings of Allaah be upon him) and his work, he and his companions, may Al lah be content with them all, and the scholars have recommended it, may God have mercy on them.
Al-Shihi emphasized the safety of the pilgrims and their spiritual and physical willingness to start the rituals, especially that their movement began on the day of the irrigation to Mina in preparation for standing in Arafa and then to the rest of the rituals to complete and that the tents of the mission are full of cooling and mamaamah, eating and drinking, "I call upon the Almighty to keep the United Arab Emirates and keep happiness, security and peace in it and bless it and to retain his people and to retain our wise and faithful leadership and to help all of us to obey it as ordered, accepting that he is a hearer. "
Hilal al-Faily told the media of the mission that the board of the mission after the completion of Umrah Friday and the diversity of his visits to the historic places in Mecca in light of his pre-programmed program to supervise the field and before taking care of it n that the tents are ready in the places devoted to the mission of the government of Dubai in the holy places, "Mona, Arafa and Muzdalifa" to find the necessary equipment to perform the rituals on his face and to area to integrate the requirements of the tents and ensure the preparation of their needs in the first phase of the beginning of the great pilgrimages.
Source link