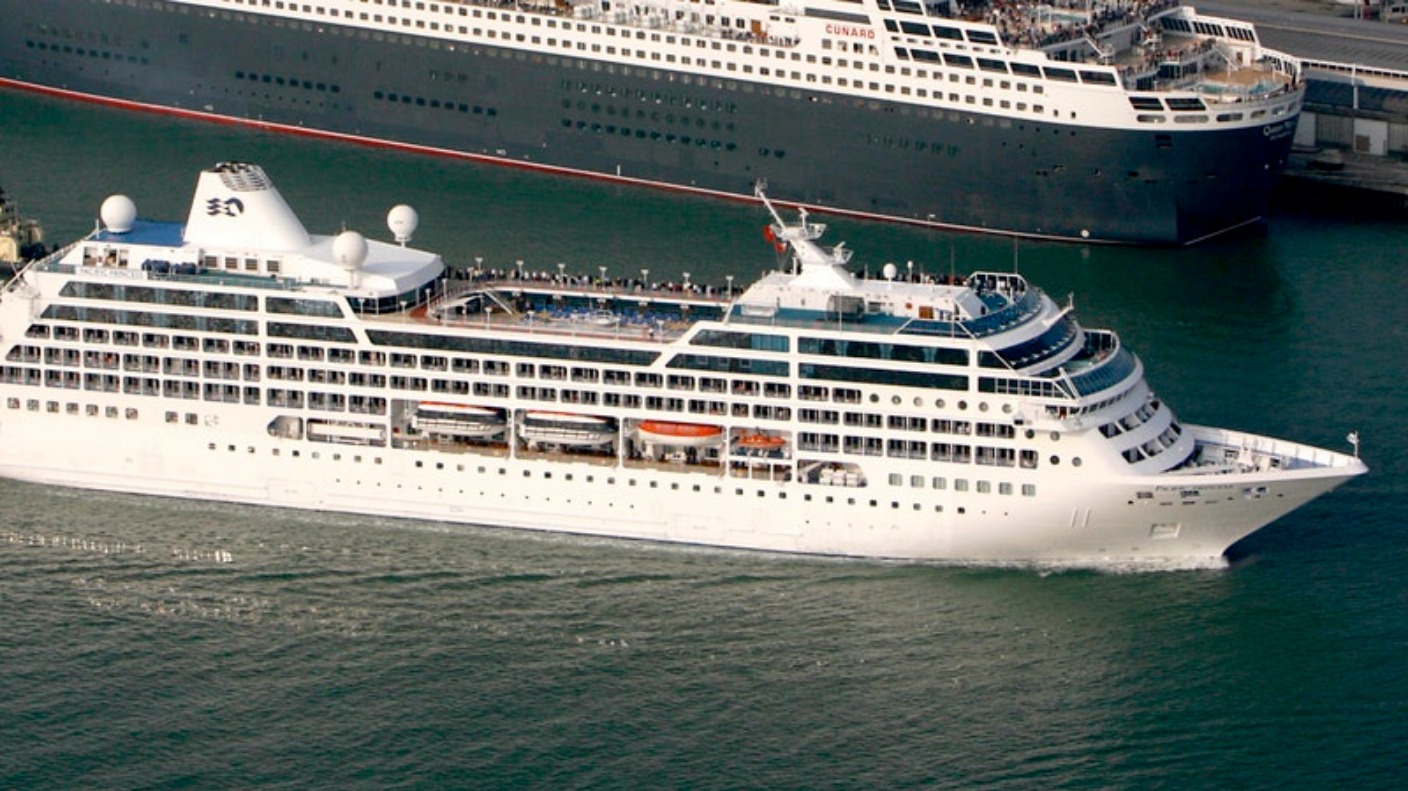 The Coast Guard is looking for two fishermen who are missing after their boat is sunk in the North Sea.
Three other men of the same ship were rescued by a passing cruise ship that saw their distress flare in the North Sea.
Passengers of the Pacific Princess applauded when the three men were rescued after four hours on a life raft off the east coast of England.
The male boat sank about 25 miles northeast of Great Yarmouth.
Passenger Teena Dowd said the captain announced that there was a lifeboat on the starboard side around 6.30 pm and that the three men had been helped on the boat within the hour.
Mrs. Dowd, who is on the ship with her daughter, said that worried passengers were on the deck and clapped when the shaken men were being helped out of their lifeboat.
The Canadian, who lives near Toronto, said: "We were on the top deck and people just held their breath, everyone was anxious.
& # 39; Because then we all thought that there were only three and everyone clapped when they came on the ship.
"But we did not know until a while later, when the captain announced that there were actually two more and we were still looking for them."
Mrs. Dowd said the crew had thrown a rope into the trio in the hexagonal liferaft before extending a ladder so they could climb along the side of the ship.
One of the men fell into the water as he tried to climb up the ladder and had to be pulled back into the raft before more firm stairs were placed, she said.
Mrs. Dowd continues: "Originally they did not think we could save them, the captain announced that we would float right next to them so they were blocked against the wind until the coast guard arrived here, but then they were able to get close enough to that they were able to climb on our ship. "
The ship remained in the area for about an hour before it was released by the Coast Guard and continued to Dover.
The Coast Guard said that a search and rescue helicopter from Humberside, RNLI rescue boats from Gorleston, an independent Caister rescue boat and other ships, helped to find help.
Lee Duncan, Coast Guard Operation Officer for the East Coast, said: "The crew members of the sunken fishing vessel are all foreigners, we know that the three recovered men spent four hours in the liferaft before they were noticed by the cruise ship.
"We believe that the two missing crew members were seen to enter the water."
Source link