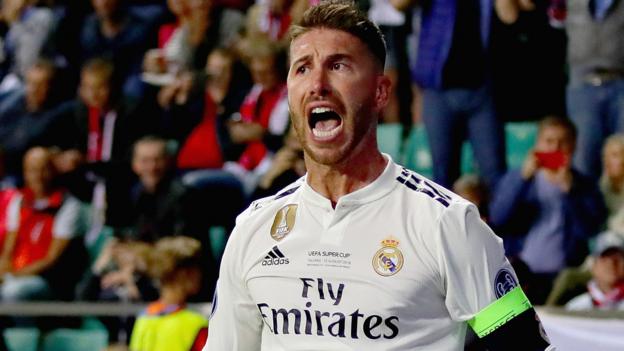 Soccer players in Spain have not excluded a strike action because of a plan to organize a top match in the United States, according to the players union.
The captain of Real Madrid, Sergio Ramos, and vice-captain Sergio Busquets of Barcelona were among the high-profile players who attended a meeting on Wednesday to discuss their "concerns" on the issue.
La Liga agreed on Friday 15 years with the American media company Relevent.
The players' union – the AFE – says that its members were not consulted by La Liga.
Players from all sides of the La Liga met in Madrid on Wednesday to discuss the problem with AFE president David Aganzo.
Among those present were Ramos and Real Madrid team-mate Nacho, Barcelona duo Busquets and Sergi Roberto, Leo Baptistao from Espanyol, Bruno from Villarreal and Atletico Madrid players Koke and Juanfran.
Aganzo said: "The problem is the lack of common sense, a scheme in which only the export of football benefits takes place – nobody counts on the fans.
"We have to solve it with the bosses, the captains are furious, they are against it, they are unanimous.
"It does not make sense, we're talking about a 15-year contract without consulting the players."
About the possibility of strike, he added: "We will try not to reach that extreme, but we are willing to go to the end if necessary."
Aganzo said that the players would meet again in September.
Asked last week when the match would take place in the US, and if it would be a normal match, La Liga BBC Sport said it "can not confirm the teams, match, date or season".
The AFE said that players "do not understand the unilateral decisions", and added: "La Liga distances the fans from the players, something that is detrimental to the show and the essence of football."
Source link