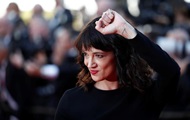 The Italian actress paid 380 thousand dollars to her ex-partner in the film, Jimmy Bennett.
Actress Asia Argento, one of the leaders of the # MeToo movement, who accused Harvey Weinstein of rape, recently spoke to a minor actor who said she had inclined to engage in sexual intercourse.
Argento paid 380 thousand dollars to her ex-partner in the film, Jimmy Bennett, who said that the actress seduced him in his hotel room in 2013 when he was 17. from Korrespondent.net tells the details.
Argento accused of temptation
Italian actress and director Asia Argento was one of the first women to publicly accuse Harvey Weinstein of sexual harassment last year. She became the leading figure in the #Yahoo (#MeToo) movement.
But a few months later it became known that Argento quietly reached agreement on a deal worth 380 thousand dollars with the person who accused her, writes the New York Times.
It is about Jimmy Bennett, a young actor and a rock musician. When he was 17 years old and she was 37, according to Bennett, Argento had sexually attacked a hotel room in California. In this state the age is 18 years for the possibility to agree to sexual relations.
The statement and the resulting payment agreement are included in the document between the lawyers of Argento and Bennett, who had previously played children's roles in the films, and in the film she played the star as her son.
According to the paper they had documents on 9 May 2013, as well as selfies, on which they are both in bed. According to a part of the signed agreement with Bennet, who is now 22 years old, he has transferred this picture and the rights to Argento, who is now 42 years old. Three people who were familiar with this case confirmed the authenticity of documents, writes NYT.
The documents say that Bennett, who as a child fascinated Harrison Ford and Bruce Willis and earned himself the nickname Jimmy two-take, because he seldom made mistakes in the text, the meeting in 2013 in the hotel room "was a betrayal that caused his emotional problems "".
The unwanted consequences of violent acts of a sexual nature were so traumatic that they began to disrupt Bennett's work and income and also threatened his mental health, emphasized in the notification of the intention and referral of the case to the court.
Bennett claimed $ 3.5 million in compensation for "deliberately causing emotional distress, loss of income, intimidation and insult."
The actor earned five more than $ 2.7 million for the 2013 meeting with Argento, but then his incomes fell to $ 60,000 a year on average, and the cause of this was the damage he suffered as a result of sexual contact with Argento. said in his letter to his lawyer.
Argento, who is divorced and the mother of two children, was both a mentor and a mother figure for Bennett, and these two functions were mixed when he grew up, the document is noted.
"In keeping with the perception of Jimmy, it was the mother-son relationship that developed after their joint work on the set," the lawyer said.
Asia Argento and Jimmy Bennett met in 2003, when he was seven years old, on the play of Tsypka's drama about the life of a woman who deals with prostitution and her son. Asia Argento was the director of the painting and played the leading part in it; Bennett played her child.
Stills from the movie Tiptoe
As they say in the documents sent to the New York Times, outside the set, Argento and Bennett also had almost a kinship relationship and in interviews and social networks they talked about each other as a mother and son.
On May 9, 2013, 17-year-old Bennett came to meet Argento at the Ritz-Carlton Hotel in the Los Angeles district of Marina del Rey. He was accompanied by one of his family members.
In anticipation of the meeting, Argento wrote on Twitter: "I am waiting for my long-lost son, my beloved, Jimmy Bennett, I smoke cigarettes, as if there will be no next week." To this Bennett answered her: "I'll be back soon :)"
In a statement made before the court, Jimmy Bennett argued that Argento asked to be left alone, gave him alcohol and showed several notes addressed to him.
Then she kissed the teenager, threw him in bed, took off his pants and took oral sex with him. Then she sat on top of him and they had sex, and then they made some joint photos at the initiative of Argento.
Later that day, the actress published one of their joint selfies in instagram, accompanied by his signature: "The best day of my life, reunited with Jimmy Bennett."
Argento v. Weinstein
Argento started acting when she was a child. She received two awards David di Donatello, the Italian equivalent of Oscar, and also worked as a director, wrote a novel and composed music.
After announcing Weinstein's actions, Argento quickly became a powerful voice in support of women affected by men's actions, NYT notes.
In May of this year she gave an emotional speech at the Cannes Film Festival, in which she called the Weinstein Festival a "hunting ground". According to her, he raped her twice in 1997, when she turned 21.
The relationship with Weinstein lasted a few years and sometimes she also included sex, the New Yorker magazine reported.
Argento, who appeared in a film, produced by Weinstein, said she was afraid to express his anger. It was a difficult situation in which she felt powerless: "After the rape, he won."
Weinstein was not found guilty of six charges in New York, including in the case of rape of the first degree; none of them had anything to do with Argento. The lawyers of Weinstein claimed that their relationship was based on mutual consent.
News out from Korrespondent.net in Telegram. Subscribe to our channel https://t.me/korrespondentnet
Source link