Despite the fact that the new generation Intel Core i7-9700K processor has not yet been officially introduced, enthusiasts have already been able to overclock them to an impressive 5.5 GHz frequency and perform performance tests in this state. But not only is this leak interesting.
The motherboard ASRock Z370 Professional Gaming i7, the flagship board on the Intel Z370 chipset, was developed as the basis for the test stand. This means that the new generation of processors with the unlocked multiplier can indeed be overclocked on current motherboards based on the Intel Z370 chipset. Earlier there were rumors that a new Intel Z390 chipset would be required for novelty to generate high frequencies.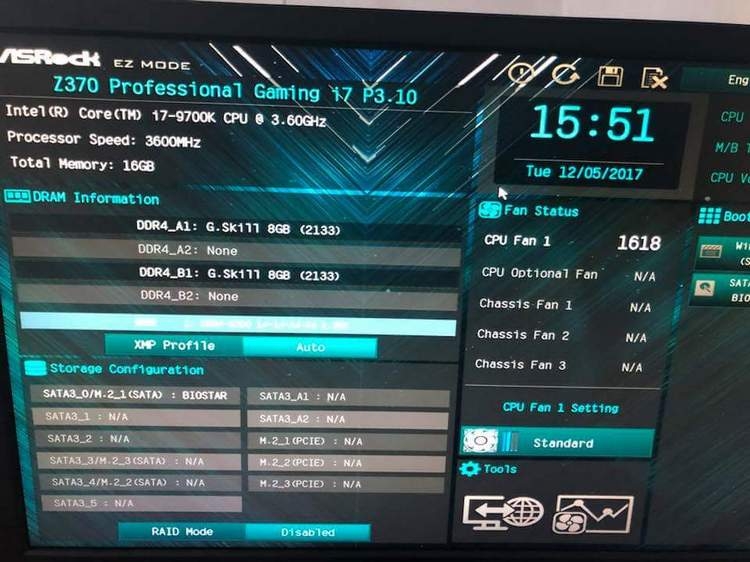 Due to the strength of Chinese enthusiasts, the Core i7-9700K processor was able to maintain the activity of all eight cores at 5.55 GHz frequency, although the voltage on the core reached a considerable 1.536V. More importantly, a cooling system was used to remove heat, not liquid nitrogen or any other way of extreme cooling. One of the factors that made such an overclock possible is the presence of solder between the crystal and the cover of the processor.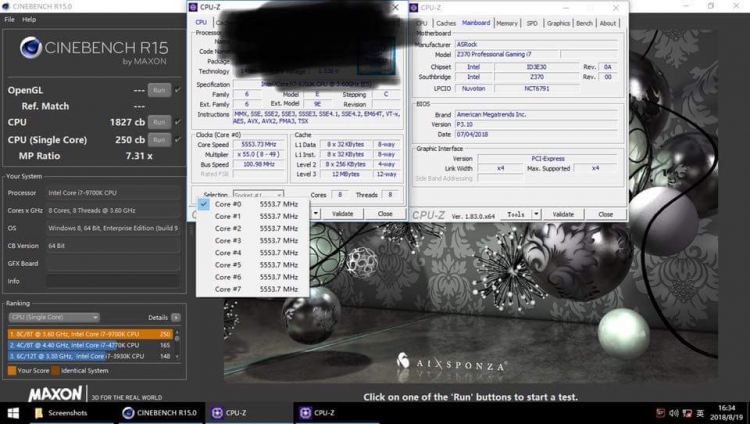 In the Cinebench R15 benchmark, the Core i7-9700K processor at 5.55 GHz was able to score 250 and 1827 points respectively in tests with one and multiple threads. By comparison, the Core i7-8086K processor on the same frequency shows a result of 1881 points in a multithreaded test, but the performance of one stream remained at the same level. It appears that in synthetic tests the difference between the new 8 cores with 8 wires and the current 6 cores with 12 wires will be minimal. We also note that Ryzen 7 2700X shows similar results without overclocking, but it also has twice as many threads as the Core i7-9700K.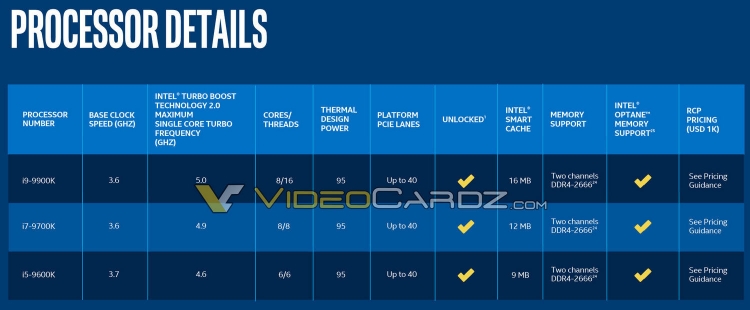 Remember that the processor Core i7-9700K has eight cores and does not support the technology of multithreading Hyper-Threading. The basic frequency is 3.6 GHz and the turbo frequency will reach 4.9 GHz for one core and 4.6 GHz for all eight. It is expected that this processor, along with the models Core i9-9900K and Core i5-9600K, will be released in October. The estimated cost of the novelty is 350-400 US dollars.
If you notice an error, select it with the mouse and press CTRL + ENTER.
Source link