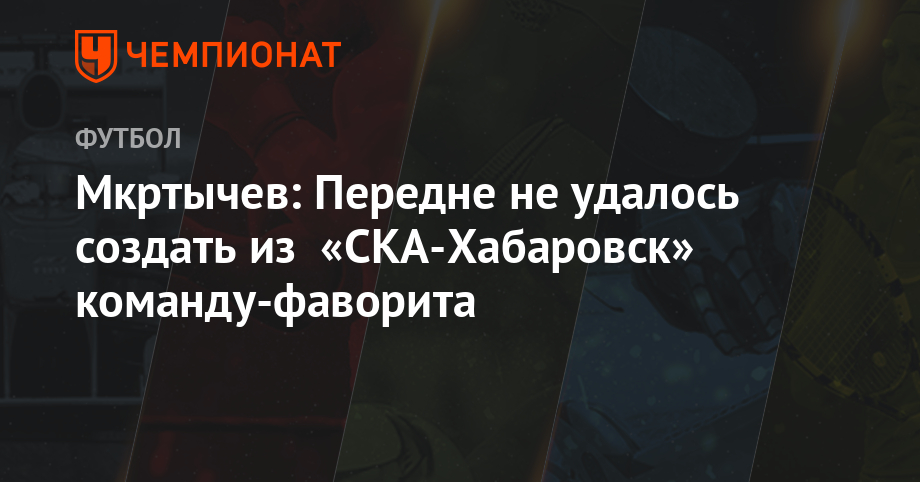 Mkrtychev: Front could not create a favorite team of SKA-Khabarovsk
Head of the Board of Trustees of SKA-Khabarovsk Arkady Mkrtychev commented on the appointment of Vadim Evseev as head coach of the club who succeeded in this Sergei Poznan .
"The decision to change the head coach before the schedule is not an emotion, as it seems at first glance.This decision is weighed, and the result of the last match with Chertanovo, if it affected the situation, is indirectly
The Board of Trustees and I, as chairman, have the task of the technical staff to bring Khabarovsk back to the Premier League within a year, but in addition to the spectacles, it was important for us that the team play a game. showed that the fans would please, and given the unimpressive end of last season, we stand in front of our fans, so to speak, in unpaid debt, and in order to fulfill both tasks, everything was done to finance the All experts agree on one thing: the composition of SKA-Khabarovsk is one of the strongest in the FNL and our team is the favorite of the tournament.
Unfortunately, with all dedication, Fronts for 7 rounds he could no favorite team from the range of qualified players. We clearly see the dissatisfaction of the fans and do not take their opinion into account in this situation. We simply could not.
I want to thank Sergey Aleksandrovich personally and on behalf of the members of the Board of Directors of the Club for the work he has done and wish him success in his future career.
We hope that Vadim Yevseyev, who replaced him, will be able to complete the started and solve the task. The whole country knows Vadim as a high-profile footballer, but he is also an equally talented coach who has already proven himself in working with Amkar. I am sure that in Khabarovsk the talent and potential of the new mentor will open with a new force ", the official website of SKA-Khabarovsk Mkrtychev cites as follows:
At the moment the Khabarovsk club is 10 points on the 9th line in the Football National League.The agreement between Evseev and SKA-Khabarovsk is calculated until the end of this season
SKA-Khabarovsk has officially announced the appointment of Evseev as head coach
Source link