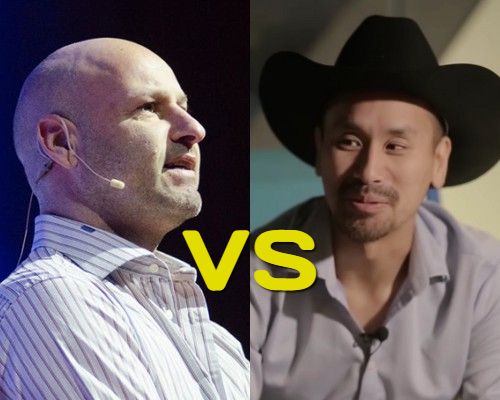 Co-founder of ethereum Joseph Lubin and Bitcoin Core developer Jimmy Song have a bet on the future of decentralized applications. It happened at the Consensus 2019 conference.
What happened to THE bet?

at # consensus2018. @jimmysong and @ethereumJoseph made a bet about the future of $ ETH, today they are planned to disguise the conditions … Will they show?@BradyDale is ready for our 10 am show #CoinDeskLIVE https://t.co/SnDktAabmk pic.twitter.com/MNM0Kw5ALw

– CoinDesk (@coindesk) May 14, 2019
The dispute started at last year's consensus conference. Then Lubin said he would have put "an unlimited number of bitcoins" on the fact that many will use decentralized applications based on Ethereum in five years. Song also accepted the bet. Note that he is known as a convinced Bitcoin maximist, who has repeatedly stated that the majority of Altcoins "offers nothing new and interesting and does not solve problems."
A year has passed since this discussion and only now have the conditions for the dispute been finalized. On the eve of the meeting, Song Lubin recalled gambling.
I want to remind everyone of what happened last year. It was almost a year ago and @ethereumJoseph It is still squelching. Joe, your body can't cash. pic.twitter.com/1V1gkidbGF

– Jimmy Song (송재준) (@jimmysong) May 6, 2019
The following was decided: if four years later Ethereum continues to develop, Song Lubin (or his representative) will pay ETH 810.8. If by then the dApps ecosystem "bursts", Lubin Sung controls 69.74 BTC.
Ethereum's success will be judged by the following criteria: if 15 unique decentralized applications have more than 10,000 active users per day and 100,000 per month for six months, Lubin will win. The deadlines are set on May 23, 2023.
Note that once the size of the rates was determined, the prices of Bitcoin and ETH differed significantly from the current ones. So on May 14, 2018, the first cryptocurrency traded more than $ 8,500. So, Lubin actually made an offer of nearly $ 600 thousand based on the prices of that time.
But if Bitcoin could recover in a year, the difference in ETH would be much greater. During the discussion of the rates last year, the currency was trading at around $ 720. So Song actually placed more than $ 580 thousand at that time, which is currently only about $ 168 thousand.
In this case the losses of the losing party by 2023 can be much more "painful". Lubin's condition can be particularly affected because some experts, such as Tim Draper, predict that Bitcoin will rise to $ 250,000 by 2022 or 2023.
"Jimmy's position is that there will be no valuable applications on the blockchain and the only important thing that is created on the blockchain is Bitcoin. My view is that – Bitcoin is amazing and there are a limited number of options for using solutions which is based on that, which is great. We love BTC, but decentralized applications are also very useful, "said Joseph Lubin.
Recall recently that the founder of Ethhereum and the leader of ConsenSys, CEO, made a number of loud predictions during his speech at the Ethereal Summit conference. So, in his opinion, by 2047, all assets will be tariarised, the internet – fully decentralized, and individual networks will focus on various important interests, analogous to national states.
Download the ForkLog app for Android!
Have you found an error in the text? Select it and press CTRL + ENTER
Subscribe to news Forklog
Source link