The ship was taken by the army to the port of Odessa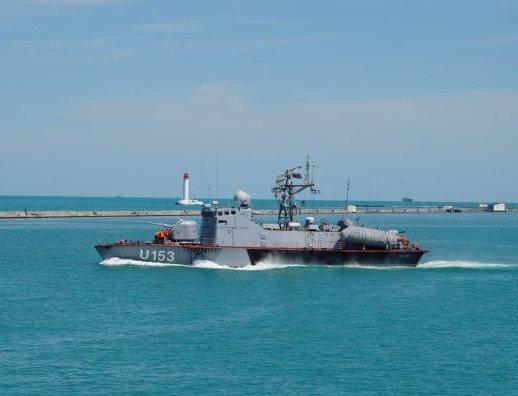 Ukrainian navy prevented an attempt to smuggle sea / Facebook, Ukrainian navy
Rocket boat "Pryluky" stopped the ship with the help of warning artillery under the flag of Tanzania, suspected of smuggling.
Read alsoThe commander of the navy explained why every appearance of an American destroyer in the Black Sea causes panic in the Russian Federation
According to the press service of the Ukrainian navy on Facebook, the incident took place on the first day of the new year. The army, in cooperation with the security service of Ukraine and the State Security Service of the Border Guard Ukraine, has prevented an attempt to smuggle by sea.
It should be noted that during the last hours of 2018 a ship under the flag of Tanzania was discovered in the territorial waters of Ukraine, which was reasonably suspected of carrying illegal goods.
"Guided by the provisions of the legislation of Ukraine, as well as the UN conventions on the law of the sea and the fight against illicit trafficking in narcotic drugs and psychotropic substances, to search for a vessel and to further monitor its actions by order of the command center of the Ukrainian navy, the Priluki rocket boat – said in a statement.
It is noted that the vessel's intruder was detected by monitoring the cross-section of NP Kurortnoe in the territorial waters of Ukraine. It did not respond to calls, so the boat started its chase.
After the ship had understood the uselessness of attempting to escape from a military boat, the ship contacted and was interviewed. The offending ship, however, did not meet the requirement to stop.
"To force the cessation of unlawful actions, the Priluki rocket opened a warning fire from an artillery installation on the course of the ship, which was stopped and escorted to the port of Odessa," the naval forces reported.
Repression of illegal actions of a foreign ship in the territorial waters of Ukraine was carried out with the support of armored artillery boats Akkerman and Berdyansk with an inspection team on board.
Recalling, in response to the aggressive actions of the Russian Federation, the Ukrainian navy deployed troops and systematically increased the grouping on the Sea of ​​Azov.
If you notice an error, select it with the mouse and press Ctrl + Enter
Source link