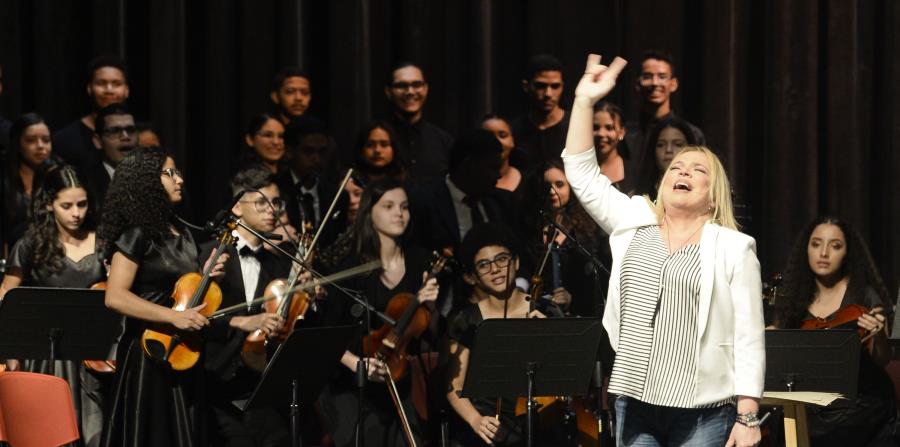 The music world is a difficult path, with many responsibilities and obligations, but also with great rewards.
That was the main message of the award-winning singer Ednita Nazario he offered the students of the Free music school from Humacao as part of an activity in which representatives of the Latin Grammy Cultural Foundation and Ford Fund They donated musical instruments worth $ 24,000. The Escuela Libre de Música is one of the institutions that receives help from the program of the Latin Grammy Cultural Foundation.
It is the third time that these organizations in Puerto Rico work together to produce the Latin Grammy in Schools program, an alliance that also wants to stimulate and emphasize the importance of music education.
"It is very important to me that they know that this is worthwhile, that it is a very difficult road, but life is not easy, I want to give him that testimony, I have been there all my life and I I have had difficult times, but I do not change it for the world, I have had a complete life, with loves and desmates, travel the world, learn from other cultures … But the experience is very enriching if you have perseverance, discipline and passion, "said Ednita in an aside with El Nuevo Día.
The singer, recognized in 2016 with the Latin Grammy Award for Musical Excellence, recommends that students take this opportunity to study in a specialized school "because it is a privilege".
"At this school we are going to make an important donation of musical instruments, because they can have all the talent in the world, but if they do not have the tools, they can not develop it".
Latin Grammy in Schools is an educational program that informs and connects music students with professionals in the Latin American music industry and provides support to departments of educational institutions with financial limitations. In fact, the Latin Grammy Cultural Foundation has benefited about 5000 students with their donations of musical instruments worth about $ 300,000 for schools in Argentina, Las Vegas, Los Angeles, Mexico, Miami, New York and Puerto Rico.
Source link