Tuesday 28/08/2018 16:00 PM (GMT + 7)
Thanks to convincing, systematic thinking, the man who set up the 100% Talks Café chain has received an investment of VND5 billion for 45%, which is 2.5 times higher than originally planned. This is the second deal for successful investment in volume 8 Shark Tank.
Talks Café 100% English is the starting model of founder Minh Quyen with the invitation to invest 2 billion for 20% share. According to Minh Quyen, the highlight of the series is the combination of coffee in the morning and & # 39; teaching English in the evening, with a size of 5 people per class, for people aged 18-40 years.
Tuition fees based on the diligence of each person, who study hard, the price will be cheap, from 65,000 to 85,000 per session. In particular, students will choose the schedule. According to the founder, this solves three problems: cheap, quality and flexibility for everyone.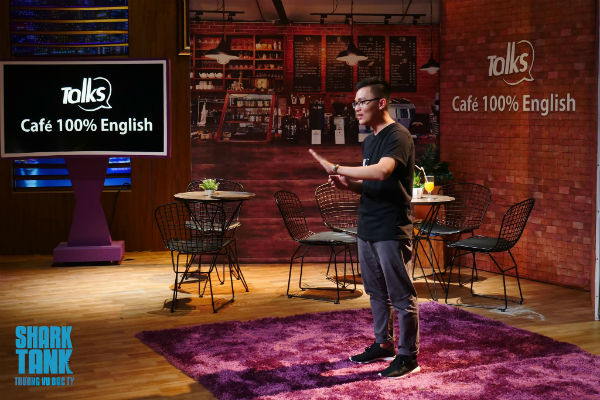 Startup Minh Quyen talks about the business model of Talks Café 100% English.
Regarding the quality of teachers, Minh Quyen believes that the teacher in the Talks Café chain 100% English must meet three criteria: graduated or graduated from the University of Foreign Languages, have TOEIC 800 or higher and achieve IELT 6.0 or higher. In addition, he is a skills trainer, so when he is interviewed, he will see the way each person teaches. During the whole interview, all teachers had to be trained in the classroom for 2 weeks, preparing lesson plans and teaching.
In addition, Minh Quyen also invited foreign teachers to participate in the educational process. Accordingly, students can talk about 20 minutes / session with foreign teachers and each will be a teacher from another country. If the trainee does not understand it, there are Vietnamese translators.
Startup also confirmed that there is no English language system or center with 5 people per class, who can communicate with each other and with teachers who are cheap and of such quality. He is also dedicated to a one-year course with good grammar, good communication.
Talk about sales, Minh Quyen said there are two stores. One month is VND105 million ($ 30 million from coffee, $ 75 million from English-language education) and a VND15 million profit after depreciation. Also, the other restaurant opened for two months is lost 5 million in cash and 10 million in depreciation. The founder of the model also shared plans to open the next store in the next two weeks.
Startup stated intention, business plan to persuade investors.
Revealing the reason for the creation of this model, he said that he himself is a teacher to teach universities and colleges, so that he knows that students do not have soft and poor English skills. Therefore, he decided to open the model of coffee sales in combination with teaching English to save the maximum cost, the lowest tuition fees for students. This will help students and staff in Vietnam to have a cheap and high-quality English learning environment to communicate in the best possible language.
Despite the potential, Shay Thuy expressed concern about the future of this model: "New model, no barriers, teachers are fully leased, self-taught syllabus … So if there is What's your advantage?" Moreover, when more facilities are opened, are qualified teachers enough to meet each other?
Minh Quyet understands this concern and claims that all English language centers across the country can not do the students of the fifth grade with such low tuition fees. Because they have to rent and study a house at certain times. As for his model, he uses coffee during the day to earn extra income to pay for his house, electricity, water, car … Especially students can choose the schedule of free time.
As far as the teaching of the teacher is concerned, he said that the choice for shift work ensured that the teachers in the centers were looking forward to working together a lot and that he also signed with the foreign language schools for the good student. In the future, he hopes to expand this model in more than 450 universities and colleges across the country. Minh Quyen said that the location of selling milk tea combined with teaching English in the neighborhood of the school will grow very fast, high profits.
The shark said that this model is potential and believes in a successful startup in the future.
Interested in thinking about the market and how to solve the problem, shark Linh proposed to invest 2 billion for 30% share. With startup conditions to complete KPI set to set the second half.
Assuming startups have systematic thinking, organization and startup information will succeed, but the educational paradigm that goes against their business ecosystem, sharks Phu and Shark Hung decide not to invest. In the same way, Shark Dung also withdraws from this deal.
Shark Shui, on the other hand, is very enthusiastic: "I love your intelligence, you feel excited, so decided to invest 5 billion to 51%." At the same time, this "shark" also challenged the startup: "I am not your man, then I am you're my opponent. "
Do you want to invest until the end, shark Linh by proposing that Minh Quyen received his investment earlier, after the development of the company to a certain extent and then invest back in Shark Shui.
With competent negotiations the start-up gets 2.5 times the investment.
However, Minh Quyen suggested shark Shui to reconsider the share of shares, so start-up can decide. That is 5 billion in exchange for 45%, the payouts are on schedule and sharks will start KPI or take on commitments within the first 2 years to not take a profit to return to investors. Then the shark can continue to pay.
In cunning and convincing words, Shark Thuy accepted an investment of VND5 billion for a 45% stake.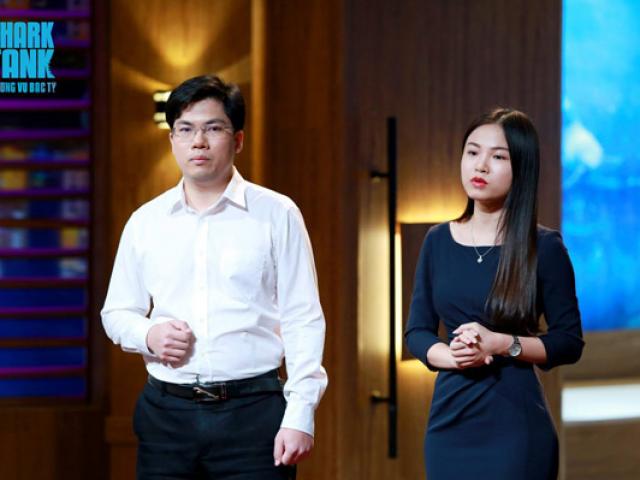 Episode 8 Shark Tank Vietnam – Billionaire trade has just gone dramatically with the appearance of startup makes the "fish …
Source link