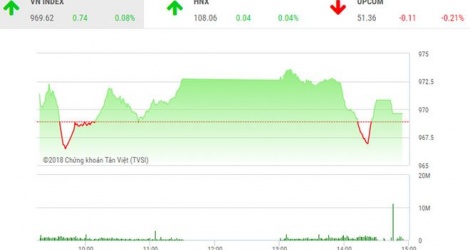 The diversification in blue chip stocks caused market fluctuations and shocked quite well in the early morning of 20/8. With the restoration of the VNM pillar along the recovery momentum in oil stocks, the UN Index has maintained the level of 970 points.
In the afternoon session the market was not sudden, the UN Index still sideways above 970 points. After almost a trading hour, however, the sales pressure was greater than the reference level.
According to some experts during the week, bank stocks still attracted the largest cash flow. In this trading day, although the time to adjust slightly, but the bank has recovered balance at the end of the session.
During the afternoon session, however, the majority of the shares in this group did not decrease, which is the biggest burden causing the market to shrink and even to return.
At the end there were 130 promoters and 150 decliners, the UN index rose slightly by 0.74 points (+ 0.08%) to 969.62 points. The total trade volume amounted to 180.83 million shares with a value of VND 4,006.38 billion, an increase of 19.75% in volume and 14.1% in value compared to the previous session.
The trade agreement represented 10.89 million shares worth VND499.58 billion. Of which GEX reached more than 6.4 million units worth VND190.32 billion; AAA agreement 2.81 million units, worth almost 50 billion …
As mentioned above, most banking stocks were adjusted, as VCB fell by 1% to 61,400 dong / share, BID fell to VND / share, CTG fell 1.2% to VND / share, MBB by 2.1% to 22,900 VND / share, STB fell by 0.4% to VNN 11,150 / share, VPB fell by 4.2% to VNS 24,900 / share, HDB fell by 2.5% to VND 35,000 / share.
Steel stocks also had a lack of positive momentum when HPG fell 1.2% to 37,250 dong / share, HSG fell 2.4% to 10,250 dong. POM decreased by 3.5% to 13,600 dong / share, TLH fell by 1.2% to 7,200 dong / share.
In contrast, VNM remained the main support when it gained 1% and closed 160,100 VND / share, with the matching volume reaching 1.29 million units.
In addition, the large pair of oil and gas groups are GAS and PLX. In particular, GAS was raised to the highest level of 98,200 VND / share, an increase of 2.1%; PLX increased by 2% to 65,500 VND / share.
With the exception of the three bright spots, other blue chips had a lower contribution, such as VIC 0.3% higher than VND102.600 per share, BID 1% higher, VND31.400, MSN above 0, 3% to 89.900 VND / share, MWG increased by 2.5% to 121,000 VND / share.
In the group of market shares, the launch of Bamboo Airways Airlines continues to make the FLC stock hotter. As a result, FLC increased by 3.43% to VND6.330 / share and successfully traded 20.64 million shares, resulting in liquidity on HOSE and 2 times higher than VPB with 10, 44 million matching units.
Another bright spot is HAG and HNG pairs. After receiving information on VND3.8 trillion in bonds and an increase of more than 1,000 hectares of banana, HAG shares became high after five correction sessions. With the 6.7% increase, the HAG shares close to the ceiling price of 7,162 / share closed and the corresponding volume rose by 9.3 million units.
HNG also recovered sharply after falling for the fourth session, winning 6.9% and closing at 15,400 dong / share and corresponding to 2.43 million shares with 123,790 shares remaining.
After receiving the red signal from HOSE, HNX also fell below the reference level and then recovered successfully.
At the end, the HNX Index slightly gained 0.04 points (+ 0.04%) to 108.06 points. The total trade volume reached 30.8 million shares, for a value of 399.11 billion dollar dong, slightly decreased 2.38% in volume and 9.55% in value compared to the previous session. In the put-through market there were 712,503 traded shares worth VND 7.87 billion.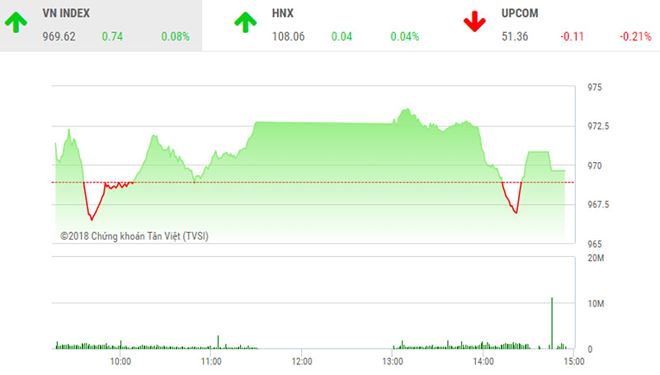 UN index trading session on 20/8
While SHB retained a slight gain against the reference price, other large stocks such as ACB, VCG, VGC and PVC were traded in red.
Excluding PVC, other shares in the oil and gas group on the HNX continued to increase, such as PVS by 1.58% to VND19,300, PLC rose by 1.86% to VND16,400, PVI rose by 0.69% To 29,200 dong / part.
Of which SHB and ACB led liquidity with 3.93 million shares and 3.25 million shares traded.
Unlike the two main floors, the UPCoM floor moves upwards and descends after almost 30 minutes of shaking. Red color was retained until the end of the previous session
UPCoM Index closed 0.09 points (-0.17%) to 51.38 points The total trading volume was 11.56 million shares with a value of 171.62 billion dong. The trade agreement represented 4.92 million shares for 57.63 billion dong.
ART still led liquidity with 3.34 million traded shares. Followed by VEA and BSR with 1.4 million units and 1.3 million units. All 3 shares, however, closed strongly.
Source link