GNN Express has expressly pronounced bankruptcy
On the morning of September 1, GNN Express reported on its official fanpage that it was officially closed due to "financial insecurity".
Accordingly, Mr. Hoang Ngoc – General Manager of the company said that due to business difficulties the company had not found a balance between collection, expenses that led to the use and abuse of customer receipts (CODs). In other activities, the current debt level amounts to VND5.5 billion.
Ngoc recognized his weak management skills as one of the reasons for this. He confessed to the law firm and promised responsibility for the entire incident.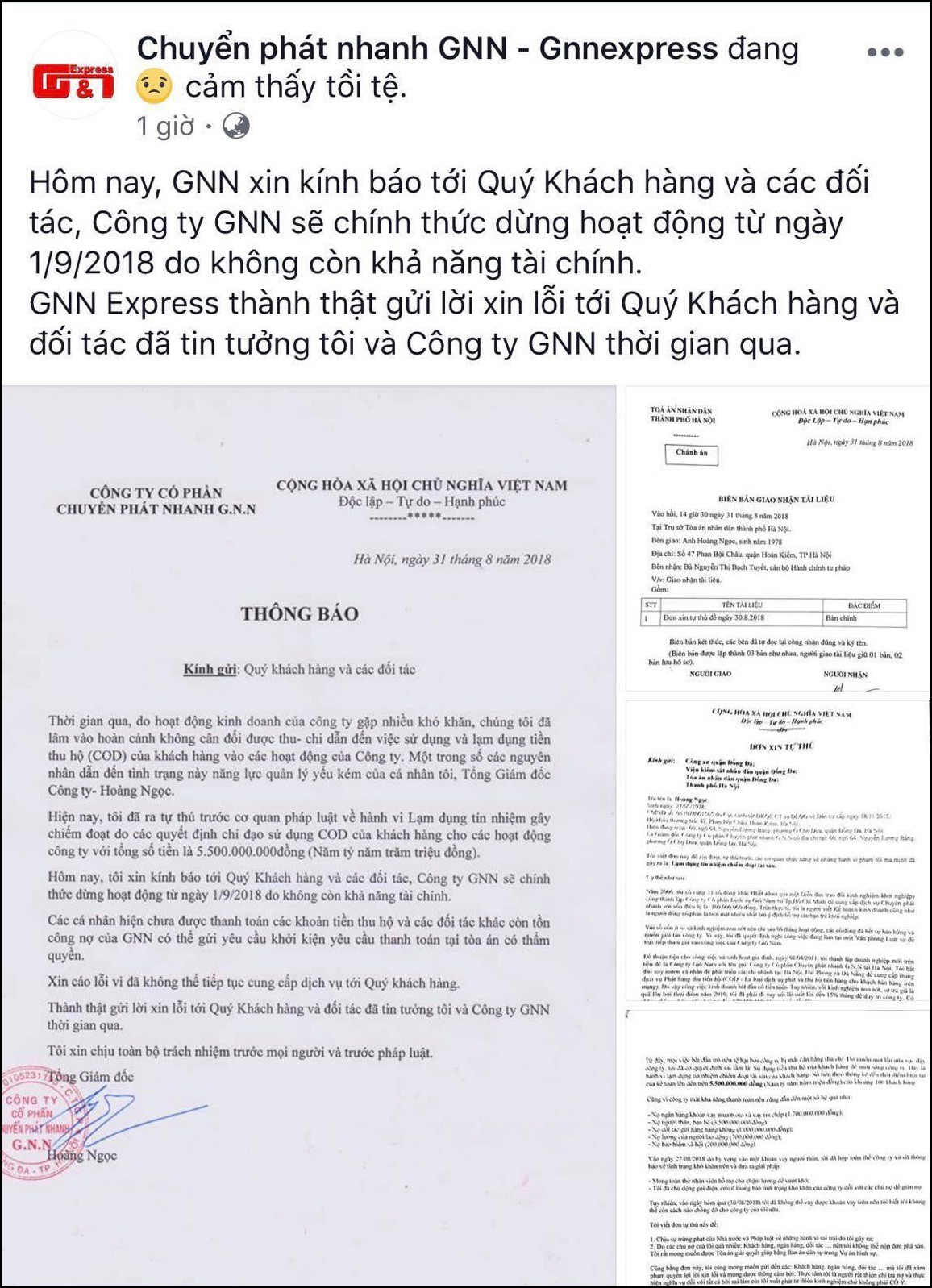 Announcement of GNN's business activities is broadcast on 1/9 screenshots on Facebook
COD – Cash on delivery is the form of cash payment after receipt of goods. COD still accounts for almost 90% of e-commerce transactions in Vietnam, as customers still have the habit of looking at the goods before they pay. However, the seller is pretty risky. Because after a week if the courier can not contact the buyer, the product must be returned to the sender. At that time the seller is subject to bidirectional shipping costs, COD costs. Or the seller can be delayed payment by the carrier, debt …
Shortly thereafter, Excel's table lists with partners (including name and address) in which they owed money were publicly provided on the fan page of this company. This exel shows that the number of partners that have not yet been paid by the GNN is more than 600. In particular, customers have the amount of debt at least tens of thousands, up to more than 250 million. Even customers with debts of more than 100 million accounts have a large share.
GNN said that customers check their debt through this excel file, if not agree with sending the relevant documents to GNN in order to adjust information, to prevent losses and damage to customers.
In addition, the customer's package that GNN has received is delivered by this company to another trusted partner for further delivery. Information about the shipments is sent if the partner fails to deliver.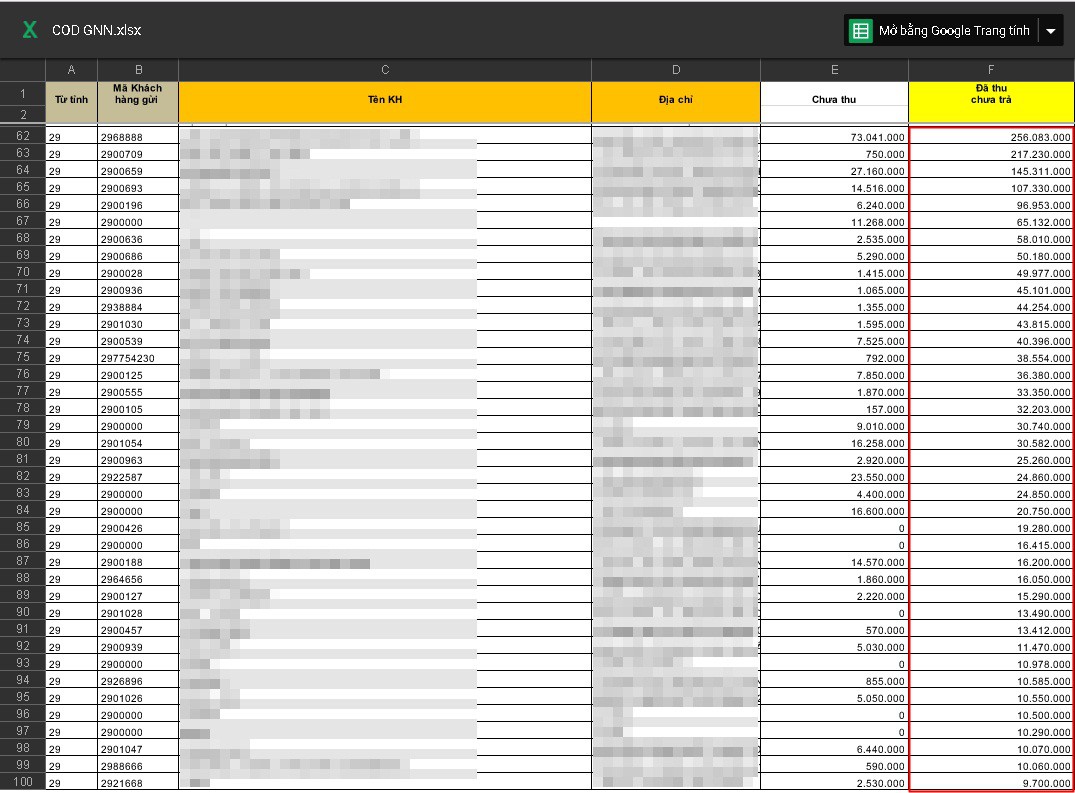 The Excel sheet shows GNN Debt Details – Screenshots.
A series of online stores baffled, frustrated when receiving information GNN bankruptcy
When GNN's shutdown was posted on Facebook, the first responders were the owners of online stores, GNN & # 39; s most popular online counterparts. level).
Most of these online stores have expressed a very angry attitude, and then worried about the information from the GNN. They said GNN likes their money a lot, and wondered if the GNN bankruptcy, who will handle the repayment?
Moreover, these stores also said that online shoppers have to pay by bank transfer, the store will send goods via the traditional courier service. Shipment of COD & # 39; s will not benefit the store and may pose a risk because GNN is an example.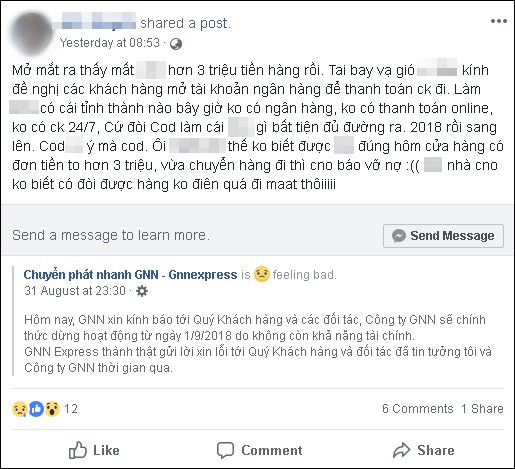 1 store online online urgent on Faecbook – screenshots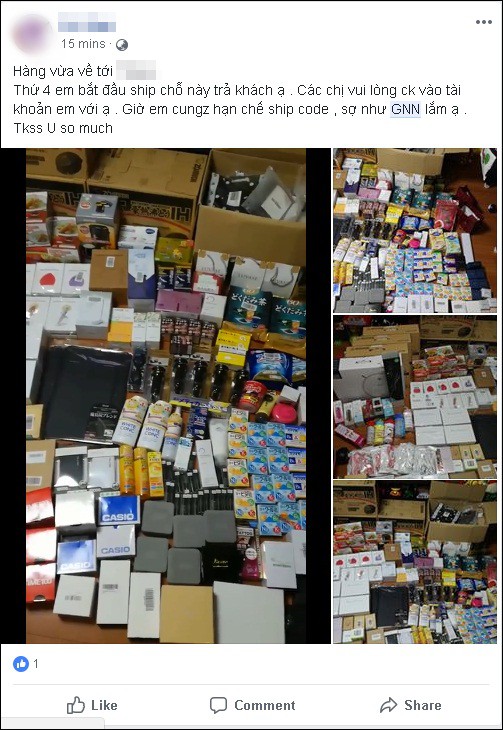 Many online store announcements limit the COD shipping risk – screen shots
AQ – owner of an online store in Hanoi, said to share with us that she suffers from a GNN debt of more than 3 million dollars, not yet, her goods to customers through this company are also sealed, do not know when you should return come.
"I was still a little guilty, but my brother worked with them constantly, thanks to more than two hundred million, now very miserable do not know what to do, now it only applied to the police.
They owe me more than 3 million, I do not intend to claim anymore. On the night of August 31st, a GNN employee of course called "my sister's bankruptcy", so I was scared, she always pulled up their company together with her sister. It was already busy"- A.Q urgent story told.
Mrs A. added that she has been working with GNN for more than 6 months. According to you, before the announcement of stopping the service, GNN is good and cheap, after this incident they probably only sell online in the traditional way.
"We have a petition, call them to pick up the delivery delivery, every 1 week they pay COD itself once. I see them doing good service, cheap price, late calls are still coming to receive goods. Now they go bankrupt, my customers have almost no promises because they have not paid, explain, they are sympathetic. From now on I would sell via bank transfer, by mail, sending COD this is very risky."A.Q said.
Apart from A.Q, many online shoppers also shared the GNN incident. However, they have all said that it is still not possible to contact GNN & # 39; s director Hoang Ngoc through his / her personal telephone number, waiting for the authorities to access them.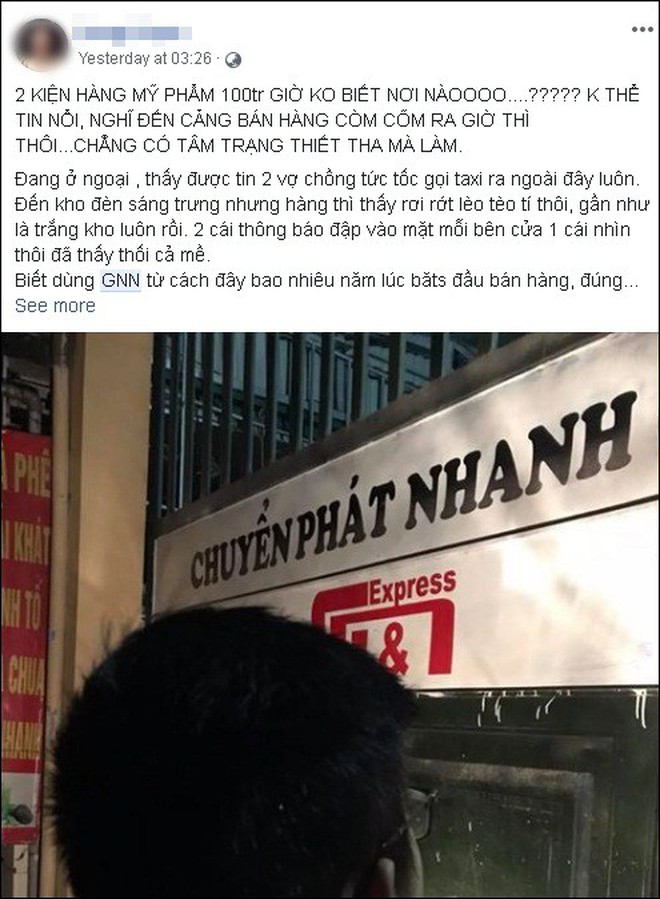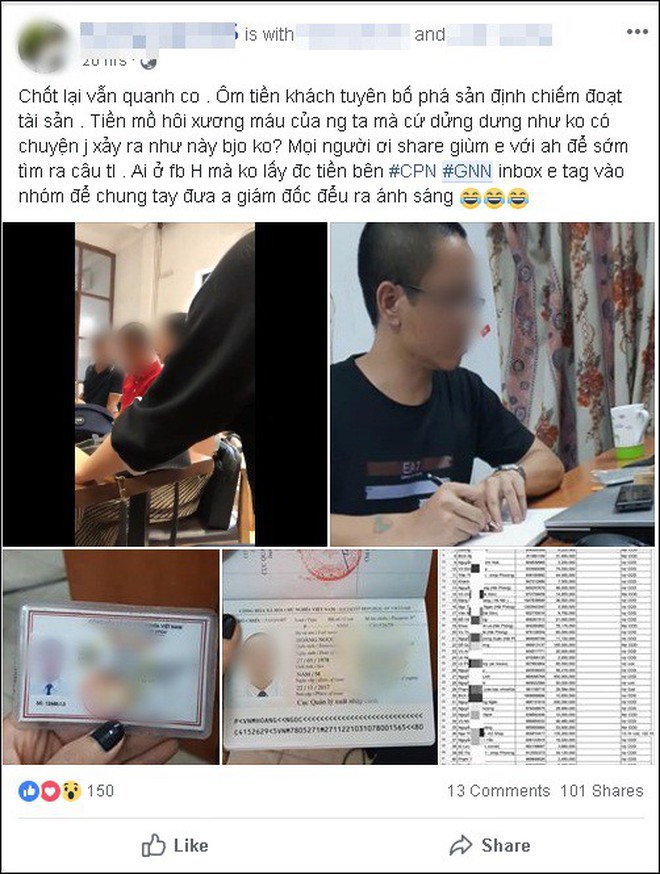 Many other customers said they had lost a large amount of money in an effort to recover the money – screen shots.
The same situation as A.Q, Mrs. D.P (Hanoi) said that her family is very worried and worried when the GNN owes a huge amount (she has not disclosed). According to Mrs. D., who, however, has been the director of GNN in the long term through collaboration with the business community, she is still trying to solve the problem from the emotional side, awaiting the director's solution for her.
"Mr. Ngoc (director of GNN-PV) went bankrupt, he also tries to solve, the police have known and so I do not want to oust people. You know, on Facebook he has announced that the customers are due, he does not escape anything so I do not want to do much"said D.P.
GNN Express was formerly known as Nam Ky Service Joint Stock Company, jointly set up by Mr. Hoang Ngoc with 11 other shareholders at the end of 2006 with the chartered capital of 100 million dong.
GNN is headquartered in Nguyen Luong Bang Street (Hanoi) and has offices in five major cities, including Hanoi, Ho Chi Minh City, Hai Phong, Da Nang, Can Tho and delivery networks to other provinces and cities.
Source link