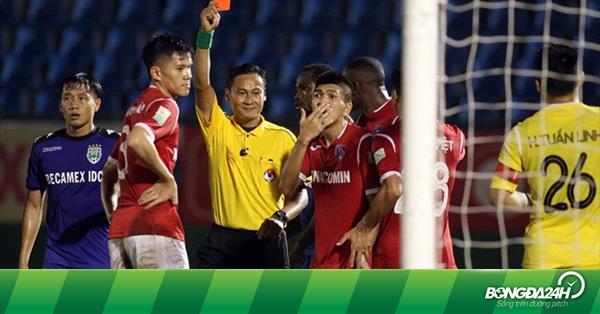 Referees become the focus of domestic football when a series of 22-round V-League 2018 sanctions is directly related to the "black king".
Coach Duc Thang penalty

In the match between FLC Thanh Hoa and Nam Dinh coach Nguyen Duc Thang repeatedly said that the referee referee Hoang Ngoc Ha was the pressure team Thanh. Two players from FLC Thanh Hoa have to receive a red card in this match.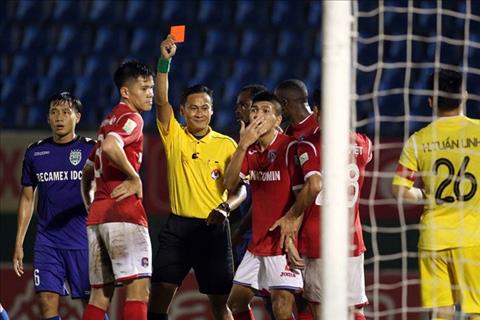 Referee Tran Van Lap caused a lot of controversy in the 22nd round of the 2018 V League.
During the press conference, Duc Thang expressed dissatisfaction with the idea that referee Ha has "whistling disruptions" or "football murder". The 42-year-old also suggested that VFF and VPF do not use the Hoang Ngoc Ha referee for the rest of the season.
Disciplinary panel and VFF panel report together after viewing the videotape synthesized report that makes no mistakes in the account. So with referee error, Duc Thang was fined 5 million, as well as a ban on the next three games.
Other fines

About the incident on the field in Go Deau Becamex Binh Duong versus Than Ninh Ninh, the head referee Tran Van Lap was hanged with many errors until the end of the season. Goalkeeper Bui Tan Truong of Binh Duong was also warned because of a reaction.
At the end of the match, Tan Truong joined the fourth referee Nguyen Trong Thu and also complained about Tran Van Lap that he did not recognize the goals of Binh Duong.
Also related to this game, two players Joel Vinicius (Quang Ninh) and Ho Tan Tai (Binh Duong) have been banned from two matches. These two players collided at the end of the game and were identified as having rough behavior with the opponent.
See more articles on Bongda24h.vn V-League 2018:
N.D (TTVN)
Source link