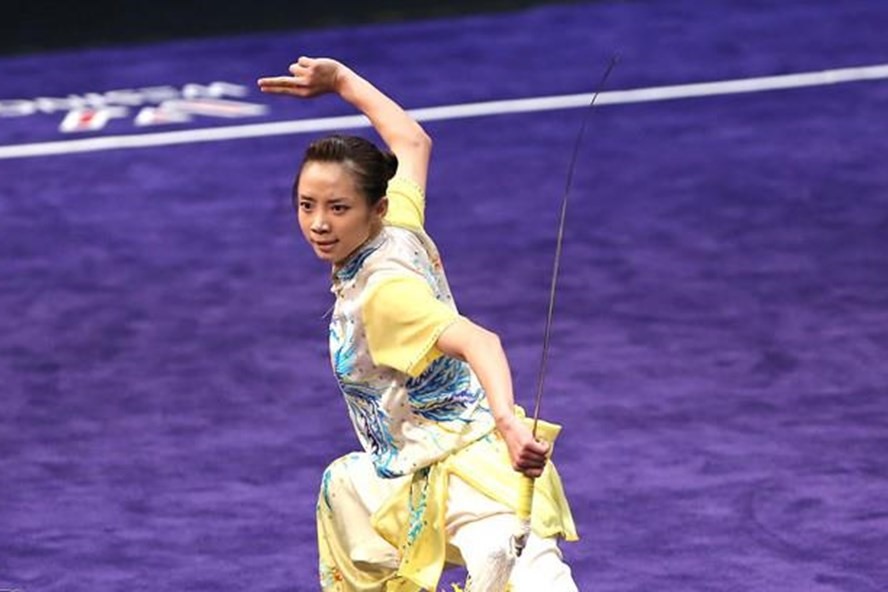 Both teams won the first two games of the group, with 6 points and the same goal difference of 5-0. So the direct confrontation between the two parties on August 18 will determine which team led the group D. Park Hang-seo confirmed that he did not intend to dodge Korea's home team. In the meantime, female players will also have the opening game against the fierce rivals of Thailand in Group C of the ASIAD 2018 women's football game on the field. Bumi Sriwijaya (TP.Palembang, Indonesia). Coach Mai Duc Chung said that if we win this game, we will be able to go to the next round.
Also today, wushu Olympic athlete Duong Thuy Vi, who won the only gold for the delegation. TTVN on ASIAD Incheon 4 years ago, also came out in common swordplay from 12 o'clock. Thuý Vy is a happy athlete who "opens" gold medals for TTVN at major sporting events. Earlier, during the successive SEA Games in 2013, 2015, 2017, Thuy Vi is the first gold medal for the Vietnamese sports team.
While swimming, the fishermen Hoang Quy Phuoc and Nguyen Huy Hoang take part in the 200 m freestyle of the men at 9 am. At the same time athlete Le Nguyen Paul participated in the 100 m mixed martial arts.
Meanwhile, tennis talent Nguyen Van Phuong will beat round 1 in the men's teams. In addition, Van Phuong also combined with Pham Minh Tuan who participated in the men's double. In addition, athlete Tran Quoc Cuong promised to "open the door" for shooting Vietnam in the contents of 10 million mixed pistols at 1 pm.
TTVN Group & # 39; s Games DAY 19/08/2018:
JAKARTA:
1.
09:00 – Nguyen Huy Hoang, Hoang Quy Phuoc – men 200m freestyle
Le Nguyen Paul – men 100m backstroke
Ngo Thi Ngoc Quynh 100m breaststroke Women
18:20 – 18:25 – 200 m freestyle final Men
18:50 – 18:55 – Final Men's Battle 10 m men Men
19:05 – 19:10 – Final 100 m female frog
2. Bui Thi Thu Ha – round ladies round knockout men
Nguyen Phuoc Round neck round men for men
18
Final round men's triple
3. Wibawa Mukti Stadium
16:00 Vietnam. Japan – preliminary round
4. TAEKWONDO – JCC Plenary Room
09:00 – 12:00 – Men's and women's rights around
13:00 – 15:00 – Men's and women's rights definitive
5. GBK Tennis Indoor Stadium
10:00 Vietnam. China qualifying round
6. JIM Assembly Hall
13:00 – 17: 00- Nguyen Xuan Dinh against Korea, Freestyle 65kg men round
Can Tho against Thailand, qualifying Freestyle 74kg men 19:00 – 21: Free style men 65kg
Final men freestyle
7. WUSHU – JIEXPO Kemayoran Hall B3
09: 00-10: 00- The final of the school – Tran Xuan Hiep
10: 00-11: 00- The final of Tai Chi – Tran Thi Khanh Ly 12: 00 -13: 00- The last game of Yang Thuy Vy
19:16 – Nguyen Thi Thu Thuy vs. Nepali round 16 52kg ladies
19: 40- Chu Thi Thuy Hang vs. Taiwan round 16 60kg female
20 : 04 – Bui Truong Giang vs Kazakhstan round 32 56kg male
PALEMBANG
8. Bono Sriwijaya
18:30 Vietnam vs Thailand – preliminary round
9. DRIVING – JSC Lake Jakabaring
09:00 – 12: 00- W1x- Nguyen Thi Hai qualification 32kg 56kg male
W2- Le Thi Hien, Pham Thi Hue- Hoang Of Dat Phan Manh Linh, Le Thang, Nguyen Huu Thanh qualification
LW4x- Ta Thanh Huyen Luong Thi Thao, Ho Thi Ly, Pham Thi Thao qualification
10. Ranau Hall
09:00 – 12:00 Malaysia vs Vietnam – Women's Qualifying Team
15:00 – 18:00 Vietnam against Myanmar Team Qualifying Women
11. IGNOI, Iwaki A-rounds 10m rifle mixed gas
11:00 -11: 50- 10m Rifle range [Quoc Cuong, Le Thi Linh Chi – ronde van 10 m gemengde jachtgeweren]
14: 30-15: 20 – Round 10 m rounds of mixed shotguns [19659008] 13: 00 -13: 40- Final 10 m Rifle combination
16: 20-17: 00- Final 10 m Combined pistols
09:00 -17: 00 Flying discs – Day first (Man-75, female-75) Le Nghia, Nguyen Hoang Deep
12. Fodor Csilla vs. Nepan- 1 single singles for women
Pham Minh Tuan, Fodor Csilla against Kazakhstan – 1 round round Nguyen Van Phuong, Ly Nguyen Savanna vs. Kazakhstan – Round 1 Double men and women
Pham Minh Tuan, Trinh Linh Giang versus Korea – Round 1 Men's Double
13. Truong Duong Thi My Huyen vs. Japan – Ladies Premiership
14: 00- Ly Van Quoc, Nguyen Ngoc Quy vs. Japan- Men's Premiership
14:50 – Nguyen Ba Truong Dang, Pham Le Dinh Khoi Japan – Men & # 39; s Premiership
Source link