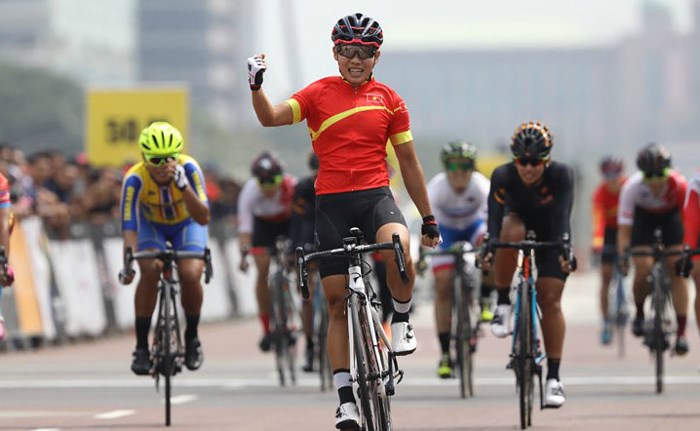 After 21/8 could not play, TTVN entered the next day with little content. The only hope – the Asian champion Nguyen Thi Thuat will participate in the 104 km long personal road bike at 10.00 am.
Nguyen Thi Truong is the most important female curler in Vietnam and has won many important national and international cycling tournaments. Earlier this year she won the first gold medal for Vietnamese ladies bike in the Asian championship.
In addition to Nguyen Thi That, we can hope for some of the investigations that can cause surprise. In Wushu, female martial artist Hoang Thi Phuong Giang, finalist school rights at 10.00. Phuong Giang started Wushu in 2004 and won over 40 titles in the country. In the international arena she won two gold medals SEA Games (2013 and 2017), Asian silver medal 2012, silver medal in 2013.
Vietnamese female gunners will send troops during the shooting. Pham Thi Ha and Le Thi Linh Chi participated in the 25 m pistols, while Nguyen Huyen Trang and Nguyen Thi Ngan participated in the rifle round. Both content starts at 9.00.
In addition, TDDC athletes will participate in the finals of the team before completing individual matches. The TDDC team for men starts at 14.00 hours, four hours later the women's team starts.
THE UNIVERSITY OF TTVN
Dating 22/08/2018
JAKARTA
1. SWIMMING – GBK Aquatics Center
09:00 – Ngo Dinh Chuy, Hoang Quy Phuoc – 100m butterfly men's round
09:13 – Mai Thi Linh – 200 m free style for ladies
09:25 – Pham Thanh Bao – qualifying 100m breaststroke
09:37 – Le Thi My Thao – 200 m round knockout for women
09:47 – Nguyen Huu Kim Son – mixed men's 400m round
18:00 – Final 100 m butterfly men
18:06 – 200 m freestyle final ladies
18:23 – Final 100 m breaststroke
18:39 – 200 m ladies finals ladies
18:56 – Final mixed men 400m

2. SUPPLY – GBK Archery Field
09:00 – Le Phuong Thao, Nguyen Thi Nhat Le, Chau Kieu Oanh – round 3 women rounds
09:00 – Round 3 of the bronze medal
14: 20 – Nguyen Tien Cuong, Mai Xuan Duc, Nguyen Thanh Tuan – Three-string male bow Vung
14:20 – Round 3 of the qualifying round for men
14:20 – Round 3 men's rounds

3. RUBBER 3×3 – GBK mandhal 3×3
16:50 Group B: Vietnam vs. Chinese Taipei (W) – Qualifying for Women
17:50 Group B: Mongolia vs. Qualification Qualification Vietnam

4. SCHOOL TRUCK – Road Around Subang, West Java
10:00 – 13:00 – Nguyen Thi That – The individual final round of 104 km

5. FIFTH – JCC Cendrawasih
09:00 – 17:00 – Sabal qualification for women
European Championship qualifying men
18:00 – 20:10 – final table ladies' catchers
Final men's triple team
6. SPECIFIC DEVICES – JIEXPO Kemayoran Hall D2
14:00 – 16:00 – Final Men's Team
18:00 – 19:30 – Final Ladies Team
7. OBJECT – JCC congress hall
13:00 – 17:00 – Nguyen Ba Son – Tour of 8 Greco-Roman men of 77 kg
19:00 – 21:00 – Greek-Roman men 77kg
8. WUSHU – JIEXPO Kemayoran Hall B3
10:00 – 11:00 – Hoang Thi Phuong Giang – women's finale Changquan
19:30 – 21:30 – Sanda Events ladies semi-final
Semi-final Sanda Events men
Palembang
9. BOWLING – JSC Bowling Center
09:00 – 12:00 – Trios Final for ladies
13:30 – 16:30 – Trios Final for ladies
10. ROWING – JSC Lake Jakabaring
10:30 – Pham Thi Hue, Tran Thi An, Dinh Thi Hao, Le Thi Hien – Semifinal W4-
10:50 – Tran Quang Tung, Hoang Thanh Trung, Vo Nhu Sang, Pham Chung, Bui
Quang Huy, Dam Dinh Chieu, Nguyen Ba Nam, Vu Viet Tuan – semi-finalists LM8 +
11. MAYBE – JSC Ranau Hall
12. DRAGON – shooting range JSC
09:00 – 15:00 – Pham Thi Ha, Le Thi Linh Chi – 25 meter ladies race
09:00 – 11:45 – Nguyen Huyen Trang, Nguyen Thi Ngan – Classification rifle 3 female posture
13:30 – 14:30 – Final 3 gunshots
15.30 – 16.30 hrs – Ladies Gun Final 25m
13. JOBS – Jakabaring tennis court
10:00 – Round 3 Men singles
Ladies singles, quarter finals
Quarter finals men doubles
Ladies double round 2

14. BEACH CREW – JSC Beach Volley Stadium
15:40 – Huynh Do Hong Loan, Nguyen Thi Cam Tien against Thailand
Trong That
Source link