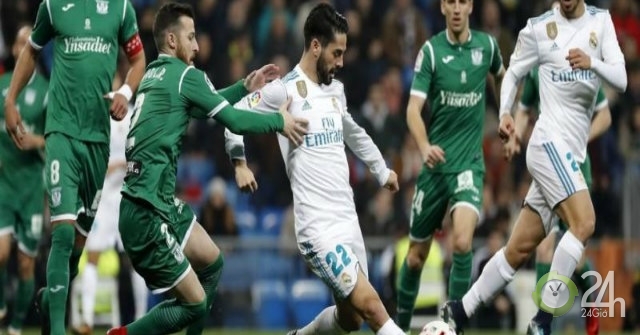 Saturday 01/09/2018 10:05 AM (GMT + 7)
Real Madrid – Leganes, 1:45, 2/9, Round 3 La Liga) The new 7th from the Royal team, Mariano Diaz, provides many curious fans.
This competition is broadcast live, invite you and your friends to watch!
Video pre-match Real Madrid – Leganes:
After the departure of coach Zidane and superstar Ronaldo in the summer of 2018, the idea Real Madrid will be in season 2018/19, but not really.
2 wins against Getafe and Girona to reach the top of the table with a +5, Real under the Lopetegui dynasty shows signs of good.
Mariano Diaz got the number 7 jersey
Moreover, the role of "lead" to lead the audience is completed by Gareth Bale, excellent with 2 goals, a tectonic since the beginning of the season. It is this to let the Madridista temporarily forget the absence of Ronaldo.
Newest, the board for real has officially found a new owner for No. 7 shirt Ronaldo left. Newcomer Mariano Diaz is expected to get the chance and will probably get the chance to play on the couch in the Leganes.
At the moment, Leganes are showing their ingratitude in the early stages of the national competition. Opposite with two teams, Sociedad and Bilbao, Leganes has only one point with draw and loss. Scored 3 goals but also got 4 goals.
Real probably wins 3 points
That is why there is no doubt about it for real Leganes will continue to beat at the Bernabeu. Leganes has never been a party to Real, the more difficult it is to create a surprise in the context of "white vultures" that play in the present time.
Predictions, early goals help Real open an easy posture and the stars of the "White Vulture" will spoil the enemy in the field in the rest of the game.
prediction: 3-0
Probable teams:
Real (4-2-3-1): Courtois; Carvajal, Ramos, Varane, Marcelo; Casemiro, Kroos; Asensio, Isco, Bale, Benzema
Leganes (4-4-1-1): Cuellar; Silva, Siovas, Munoz, Juanfran; Ojeda, Gumbau, Perez, El Zhar; Eraso; Carrillo
Information Force:
Really: damage by Vallejo
Leganes: Pires come back after an injury. Szymanowski is still absent
Trivia:
Real Madrid won 6, 1 drawn, lost 1 in total 8 times.
The last two encounters in La Liga, Real scored five goals in the Leganes net and only for the visitors to score exactly 2 goals after two rounds.
At the Bernabeu, Real win 2, tie 0, lose 1.
In January Real of Leganes in the King's Cup lost directly to the Bernabeu.
The last five games have not exceeded 3 goals.
The earliest Bundesliga competition between Hannover and Dortmund was dramatic.
Source link