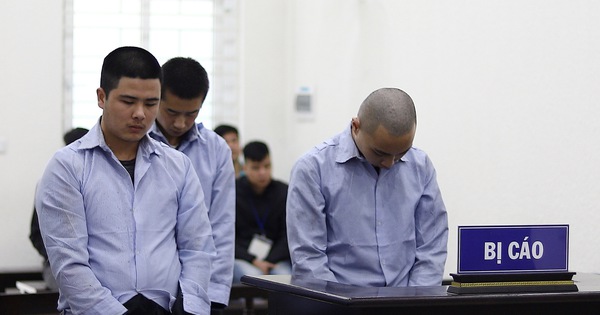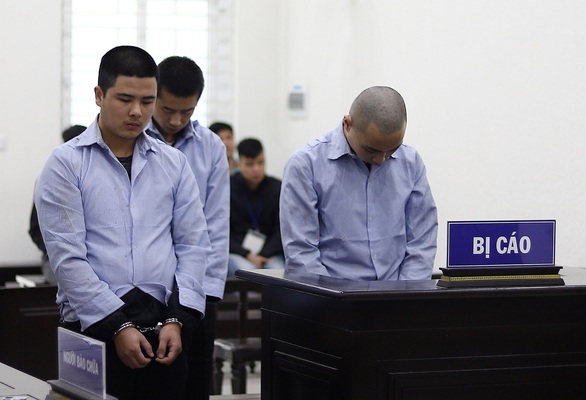 Three suspects in court – Photo: LIST
On November 27, the Hanoi People's Court convicted Woang Xue Lei (ie Wang Hoc Loi, 24 years old, living in Hebei Province, China), Woang Tong Tang (ie Vuong Hong Duong, 27 years old, living in Orange Province. Tuc , China), Zhang Hian (aka Zhang Jian, 21 years old, living in Guangxi Province, China) along with the death penalty for murder, 10 years imprisonment for theft, the total penalty is death.
According to the indictment, Loi, Duong and Sue met through social networks in late July 2016 and then went abroad to look for work. After that, all 3 vVietnam through unofficial channels at the Huu Nghi border gate (Lang Son).
On the evening of 8-8 this group called the NHM taxi and rented it out to Hanoi. On the way, all 3 spoke in Chinese, discussed the murder of driver M. to steal the car, took money to Laos and then went to Myanmar to work.
Arriving at Tang Bat Ho Street (Hanoi), Mr. M. stopped the car and asked all three to pay 1.5 million VND as agreed. It was then that Zhang Jian saw that the road was empty, so he motioned for his henchmen to take action. Vuong Dong Duong and Vuong Hoc Loi immediately detained and strangled Mr.M.
In court, the suspect said after strangulation, the victim had no resistance, all three took him to the backseat of the car. Sue used his phone to translate the content from Chinese to Vietnamese: "We just need money, we don't want to hurt you". However, Mr. M. was still protesting, so Loi took his knife and stabbed him many times.
After that, the ramp carried everything in motion and when we got to Vinh Thinh bridge I planned to throw Mr. M's body in the river but down there were a lot of boats and boats going back and forth so we could don't do it.
The group used Goog Maps to show the stars of Laos, on the car, Sue used his hand to strangle driver M., causing him to die. When they went to the Ba Vi district (Hanoi) area, this group dropped his body into the Red River and continued towards Phu Tho – Son La.
Arriving in Phu Yen (Son La) district, the car got stuck, so the group threw the car back, walked, and rented a boat to cross the river to Moc Chau district. On the evening of August 9, police from Son La Error province discovered Duong and Sue in Moc Chau district, so they took them to headquarters to fight for clarification. Here 3 robbers confessed their crimes.
After four days of being thrown into the river, Mr. M. was discovered by the people in the area between the Red River, through the Long Bien District (Hanoi).
Source link