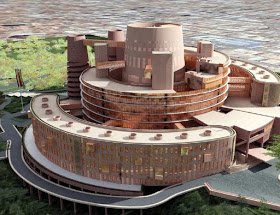 At a time when the country would have had to do simple drafts in 1996, whose failure opened the door to the scourge of cholera to hit the nation, more than $ 140 million is being blown for the construction of a new Parliament Building. Hundreds of millions have gone on to purchase brand new foreign-made vehicles for Chiefs and Zanu PF officials.
Earlier in July, the government revealed that they have worked on the crucial dam for more than 22 years while spending billions of luxury.
To date, more than 30 people have been killed by the cholera plague and last Friday a family victim stated that the government does not tell the truth about the statistics.
While all this is taking place, the government has continued to build a new parliament building before all other things.
State Media COMPLETE TEXT:
The construction of the new parliament building in Mt Hampden is expected to start soon after China has appointed a contractor, says the spokesperson for the national assembly that lawyer spokesman Jacob Mudenda said.
Adv Mudenda said that construction would be completed between 18 and 24 months.
When he addressed the media after a courtesy visit by the departing Chinese ambassador Huang Ping last week, lawyer Mudenda said that the infrastructure needed to start the project was present. Ambassador Huang paid the courtesy visit to say goodbye to Parliament at the end of his term in Zimbabwe.
"More exciting for Parliament is the assurance by His Excellency the ambassador that the contractor has been identified and approved by the Government of China to come to Zimbabwe and build the new parliament of Zimbabwe in Mt Hampden," said Adv Mudenda.
"As a government, we have completed civil works and other infrastructure, such as new roads, electricity supply and water collection, and the infrastructure needed to begin with the construction of Parliament is present.
"Given the work ethic of the Chinese with regard to completing their projects in record time, without sacrificing quality, Parliament must be completed in a space between 18 months and two years."
Adv Mudenda said he was also excited that President Mnangagwa was addressing problems that had delayed the implementation of several other projects. He hoped that Minister Mthuli Ncube of Finance would find money to pay debts. The government owes the Chinese government to speeding up the execution of mega projects.
Adv Mudenda thanked Ambassador Huang for the number of projects he could complete during his term of office.
"During his stay here, we witnessed a number of important projects that he could carry out in terms of implementation.A remarkable project that comes to mind is the Kariba South Power Station, which he advised me to now produce 300 megawatts of electricity. will be a long way to ensure that we do not experience blackouts in our cities, industry and homes.
"The other project signed by our government and the Chinese government is to improve the Hwange Stage 7 and 8 power generation, it was commissioned by His Excellency President Mnangagwa just before we went to our election.
"We are excited, especially for the people in Matabeleland North, because it will create about 3,000 jobs, some workers' houses will be built and thus contribute to job creation." President Mnangagwa would like to see as many jobs as possible be created around these big projects, "he said.
Ambassador Huang said he hoped that more projects would be financed in Zimbabwe to achieve the vision of President Mnangagwa that by 2030 Zimbabwe would become a middle-income economy.
He congratulated Adv Mudenda on his re-election as President of Parliament.
"I am very pleased with the results, and from a political point of view, our traditional good relationship has been upgraded to an extensive strategic partnership and partnership – the highest political positioning of China's foreign relationship with Zimbabwe.
"Economically we have seen the increase in trade and investment, especially when completing large projects."
If our services helped you, our work would be much safer with your help –

From £ 5 you can support ZimEye – and that only takes you a minute.
Source link