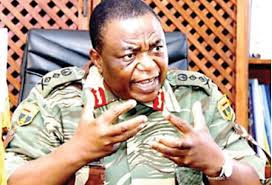 A 30-year-old non-recognized commuter omnibus driver was in pre-trial detention on Monday for cutting off the vicar chair Constantino Chiwenga's autocarcade in Borrowdale, Harare, which seriously damaged the vehicles.
Silent Hungwe was not asked to plead when he appeared before the magistrate Rumbidzai Mugwagwa, who placed him in pre-trial detention until September 4 pending completion of the investigation.
There are reports that Hungwe drove south on Borrowdale Road on the crossing of Kingsmead on August 24, and in his attempt to avoid vehicles that blocked the road, Chiwenga's vehicle hit the rear.
Although no injuries have been established, both vehicles have suffered serious damage.
Linda Gadzikwa appeared before the state.
Newsday
If our services helped you, our work would be much safer with your help –

From £ 5 you can support ZimEye – and that only takes you a minute.
Source link