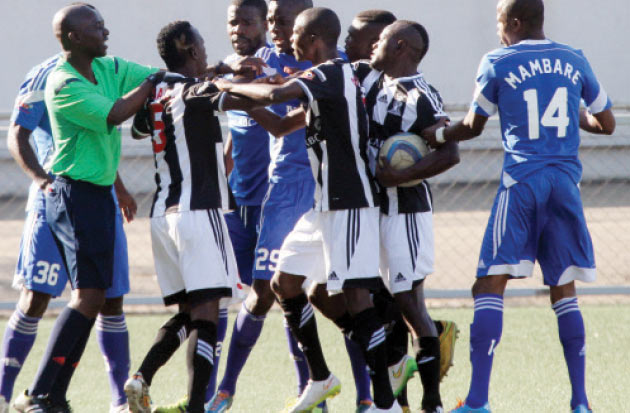 HARARE giants Dynamos and Caps United would have to fight another day in their Castle Lager Premiership clash with the famous derby yesterday suspended to pave the way for the DeMbare against Bosso confrontation that will now be part of the events occasion of the inauguration of President Emmerson Mnangagwa at the National Sport Stadium tomorrow.
DeMbare and Makepekepe were bumped into Rufaro tomorrow to fight it out.
However, both Zifa and the Premier Soccer League confirmed yesterday that Dynamos and Highlanders would now play during the state event at the National Sports Stadium.
Manager Xolisani Gwesela of Zifa Communications and Competitions confirmed the DeMbare Bosso game while PSL CEO Kenny Ndebele issued a statement announcing the realignment of the fixtures that had been hit by the inauguration ceremony.
"The Zimbabwe Football Association hereby confirms that it has organized a match pitting Dynamos and Highlanders to celebrate the inauguration of his Excellency President Mnangagwa at the National Sports Stadium on Sunday, August 26, 2018. The match starts at 3pm," Gwesela said.
This will be the third meeting between the two teams this year after Dynamos Bosso defeated the Charity Shield finals in the Commander Zimbabwe National Army's finals early this year before the Bulawayo giants wreaked some revenge in the competition against Rufaro months later.
Dynamos and Highlanders still play their game against the reverse competition and the clash of tomorrow before an expected bumper crowd could be a dress rehearsal of that game.
In their statement, apart from the Harare Derby, the PSL said two other luminaires that had been suspended, including those putting black rhinos against Harare City that were scheduled to play in the national sports stadium, as well as the duel between the struggling Shabanie and the Highlanders who tufted were for Maglas. However, the PSL said that all other matches will continue as planned.
"The Premier Soccer League wants to inform the PSL clubs and all interested parties that the matches in the Castle Lager Match Day 24 with Dynamos / Caps United, Shabanie Mine / Highlanders and Black Rhinos / Harare City have been postponed for the inauguration. purging the President of the Republic of Zimbabwe, on Sunday, 26 August 2018.
"The new dates of the competitions will be announced in due course, and the rest of the other Matchday 24 matches will continue as planned" read the statement.
State media
If our services helped you, our work would be much safer with your help –

From £ 5 you can support ZimEye – and that only takes you a minute.
Source link